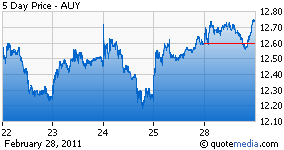 Yamana Gold (AUY) is a mid-tier gold, silver, and copper producer with operations in Mexico, Peru, Argentina, and Chile. As a note, Yamana reports in gold equivalent ounces (geo) of production rather than straight ounces of gold production except where noted. During the 2010 fiscal year revenues rose by 43% to $1.7 billion and EPS rose to $0.61 per share. For the fourth quarter of 2010, revenues totaled $535.1 million, up 34% year-over-year and EPS of $0.22 per share. Production has grown from roughly 147,000 ounces of geo mined in 2006 to over 1 million geo in 2010 as new mines come online and ramp up production.
In the next four years it is expected that production will grow to 1.7 million geo mined as new mines come online. In terms of by-products, in 2010, 10 million ounces of silver and 149 million pounds of copper were mined. At El Pinon in Chile, Yamana's largest mine contributed approximately 428,000 geo during 2010. Production is expected to be flat during 2011 and 2012 with significant exploration opportunities in the mining camp.
Gualcamayo, Argentina is one of Yamana's newest mines with production starting in 2009. During 2010, gold production came in at 135,000 ounces compared with 98,600 ounces during 2009. Costs were much higher than 2009 due to the upgrading of the plant's capacity, during which the ore needed to be transported by truck rather than conveyor belt. Fourth quarter production was also affected by the upgrade as well causing less gold to be produced.
The Minera Florida mine in Chile had an interesting 2010. Production for 2010 was up by 15% on a gold equivalent ounce basis compared with 2009, despite production being interrupted by the massive earthquake in February of 2010. The reprocessing of historical tailings has proceeded according to plan and exploration in the area has led to the discovery of a new high grade deposit. Exploration and efficiency projects will continue in 2011.
Jacobina is an underground mine in Brazil. Gold production in 2010 totaled approximately 122,000 ounces, an increase of 10% over 2009. Mine optimization has led to an increase in gold production and significant resources and reserves growth is expected in the first quarter of 2011.
The Chapada deposit in Brazil produced significant amounts of copper by-product during 2010, assisting in bringing cash costs to a negative level during the quarter. The original feasibility study was completed in 2005 with the mine being built out and brought into production within two years, on time and on budget. Over the past five years, plant optimizations and efficiencies have increased to 22 million tons per year. There is potential to expand the camp with the Suruca deposit roughly 15 miles away.
During 2010, Chapada produced 135,600 ounces of gold and 149.4 million pounds of copper.
The Mercedes deposit is currently under construction and on schedule with production expected to commence in 2012.
Yamana is a solid mid-tier producer with a number of small, new projects coming online over the next few years which will boost production on a geo basis.
Risk is a bit higher in Yamana due to operations being centered in Brazil, whose currency has appreciated significantly over the past few years giving rise to currency risk.
The Argentina operations continue to hold some risk as inflation has taken hold. Elections are scheduled for later this year and the Argentine government raided the Central Bank reserves a few years ago. Sovereign risk should not be discounted from Argentina even though they are one of the more friendly mining jurisdictions in the world.
The real value in Yamana lies not in its gold operations but in the amount of silver and copper produced which is hidden in the geo calculation along with increasing production over the next few years, but investors need to beware of political risk in Argentina and currency risk across South America.
Disclosure: I have no positions in any stocks mentioned, and no plans to initiate any positions within the next 72 hours.
The original article is published at http://www.c2ads.net/full-text-rss/makefulltextfeed.php?url=http://seekingalpha.com/sector/gold-precious.xml&format=rss&submit=Create+Feed
Looking for a precious metals provider that sells gold coins and bullion (including junk silver)? Click here to visit our favorite provider (FREE SHIPPING!).