Whilst being dragged mercilessly around the shops the other day I spotted a jewelers shop with the usual signs outside saying that they buy and sell gold and silver etc. It looked like a good place for some respite and an opportunity to find out just what is happening at the High Street end of things.
We kicked off with a polite inquiry about us wishing to purchase both gold and silver coins and bars for investment purposes. The shop owner, resplendent in apron, goggles, head bands and high powered magnifying glasses gave us a perplexed look.
Do you know, he said, that he
took delivery of both, enough to last this shop five weeks and it all went in a day and a half. However, I have placed another order and when you are certain of exactly what you want you can piggy back on the back of my order, but we can not give you a delivery date as things are a bit manic at the moment.
He went on to say that investment demand was now outstripping his demand for jewelry, which although he was happy to get the business, he was surprised at just how fast it was moving.
He also told us that people who had bought three months ago returned in the first week of January 2011 and paid cash for immediate possession. He likened his business to the bakery next door with the proviso that he was handling much bigger numbers. He wasn't prepared to tell us just how big as we had just walked through the door and he didn't know us. We asked how much gold and silver his customers brought back to make a profit when the price had increased, he laughed and gave us that look! None of his customers who had purchased precious metals for investment purposes had tried to sell it back to him, however, he was getting a steady flow of broken jewelry that people would cash in and his pride and joy as a craftsman was to repair the objects and display them in his window.
This is not a scientific experiment, but the owner did dwell on the supply side difficulties that he was experiencing so this would appear to be in line with most of what we have picked up from our peers, the media, other sites, etc.
It suggests that the physical supply and availability of gold and silver as we have alluded to in the past and has been reported on many other sites such as King World News, is still very tight indeed.
Here are silver prices as of 17 January 2011: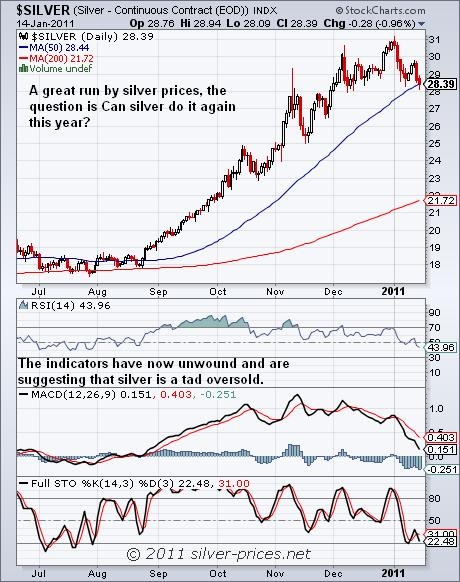 The difficulty we wrestle with is: Can silver do it again? Can it put in a repeat performance equal to that of last year, especially in the latter half of the year when it went from $18.00/oz in August to $30/oz in December 2010? Normally we would say that this is highly improbable, but every time we have a knock down and drag out session we come back to very similar conclusions: That silver will indeed have another very good year.
Gold prices may steal the limelight and power ahead making record breaking headlines, however, silver prices will be there or thereabouts. We lean towards the theory that the sheer numbers of people in China, India, Asia, etc, who are steadily increasing their wealth, will be able to afford some silver as their financial position improves. Should they gain some traction, then gold prices will appear less daunting and so they will start to accumulate some gold too. Also, the investors/speculators who have made some good profits in silver may decide that the time has come change horses and allocate some of their capital to gold in the hope that a better percentage gain can be had. Its going to be a very interesting year and a pretty bumpy one at that.
Just our thoughts of course.
Disclosure: I am long SLW.
The original article is published at http://www.c2ads.net/full-text-rss/makefulltextfeed.php?url=http://seekingalpha.com/sector/gold-precious.xml&format=rss&submit=Create+Feed
Looking for a precious metals provider that sells gold coins and bullion (including junk silver)? Click here to visit our favorite provider (FREE SHIPPING!).