Many gold investors like to own both physical gold and gold miners. Using a ratio of gold miners to gold is one way to determine whether to overweight gold or gold miners. When gold miner stocks are low relative to gold, than they are likely undervalued and we can expect them to outperform.
The PHLX Gold & Silver Index (XAU) is commonly used as the denominator of the ratio because it is the gold mining index with the longest readily available history. However, I think that using this index may distort what the ratio is telling us for two reasons, 1) 21% of the index is Freeport-McMoRan Copper & Gold (FCX), a company that derives only 17% of its revenue from gold, and 2) the top five companies in the index together have a 73% weighting. Instead of using this index, I like to use the NYSE Arca Gold Miners Index (GDM) because it has a lower concentration in the top constituents and only holds companies primarily involved in gold and silver mining.
The problem with using the NYSE Arca Gold Miners Index is its shorter history. To solve this, I adjusted the data to include the performance of the PHLX Gold & Silver Index when there was no history of the NYSE Arca Gold Miners Index available. Below I've created a gold miners/gold ratio based on the two gold miner indexes.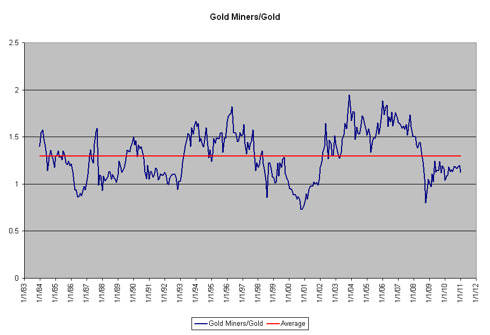 click to enlarge
Currently, the ratio is at 0.23, over 14% lower than the long term average of 0.27, but not at a true extreme. This means that over the next several years we can expect gold miners to outperform gold by a few percentage points each year, but that there may not be a large edge in the shorter term.
The original article is published at http://www.c2ads.net/full-text-rss/makefulltextfeed.php?url=http://seekingalpha.com/sector/gold-precious.xml&format=rss&submit=Create+Feed
Looking for a precious metals provider that sells gold coins and bullion (including junk silver)? Click here to visit our favorite provider (FREE SHIPPING!).