After providing a more thorough analysis of the precious metals market Monday morning, given silver's activity yesterday, we felt compelled to continue the discussion. The silver market has been extremely volatile as of late, and the day's action has proven no different. After peaking at 27.95 overnight, silver hovered around unchanged before dropping precipitously for no reason, ending Monday down almost 2%.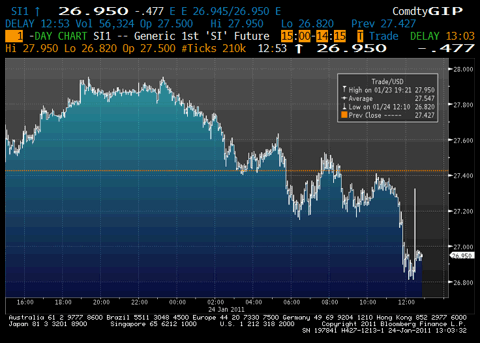 (Click charts to expand)
The large intraday price drop is certainly cause for concern among investors, but digging into Monday's volume action may be a bit more revealing.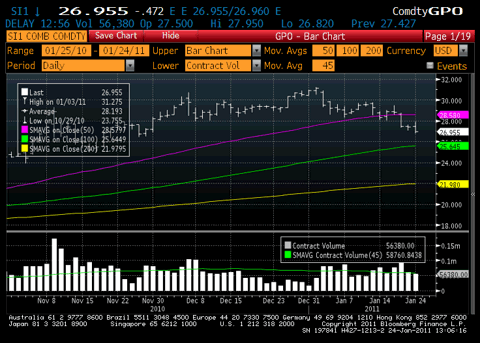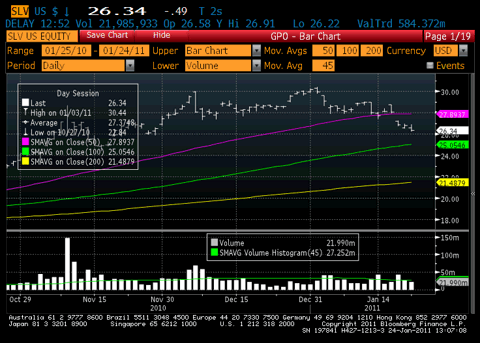 Both silver futures and the SLV displayed average to light volume. The silver futures traded ~56.4k contracts compared with an average of 58.8k contracts over the last 45 days. The SLV traded 21.99 million shares compared with an average of 27.25 million shares.
What this all means is that the conviction in the selloff of silver appears to be waning. Even in the face of another big selloff in silver, with no reason in sight, silver traders did not panic and begin selling into the swoon. Rather, it appears that most holders stood pat and did nothing.
Most traders like to see high volume behind either a downside or upside breakout in order to confirm its conviction. Furthermore, they view decreasing volume behind a continuing trend as a sign that a reversal is imminent. The tailing off of volume behind silver's selloff is an interesting phenomenon that will have to be monitored.
For now, we recommend selling far out of the money put options on silver futures as a way to profit from the silver correction while still maintaining some margin of protection against a continued pullback. The 25 puts for December futures can be sold for $2.4, meaning the trader will profit as long as silver is above $22.6 at the end of November.
We also like SLW, as it appears to have bottomed before silver. Even with silver selling off almost 2% on the day Monday, SLW traded up a fraction, indicating that selling pressure may have abated on the royalty trust. As silver prices rise, SLW's earnings will rise at an even faster pace given the fixed amount they pay for silver (roughly $4/ounce) and the variable price they collect.
Disclosure: I am long GDX, GDXJ, GLD, SLV, SLW and long silver futures.
The original article is published at http://www.c2ads.net/full-text-rss/makefulltextfeed.php?url=http://seekingalpha.com/sector/gold-precious.xml&format=rss&submit=Create+Feed
Looking for a precious metals provider that sells gold coins and bullion (including junk silver)? Click here to visit our favorite provider (FREE SHIPPING!).