Last year, 2010, was a very good year. I was able to increase my portfolio value by double digits (nearing triple digits) by concentrating on the smaller mining stocks. The spectacular performance in the fall of the precious metals and miners accounted for almost all of the gains.
Now, looking forward to 2011, I am searching for some possible big movers amongst the smaller emerging producing miners. Why, you may ask, am I looking for new producers? Well, it all hearkens back to the classic valuation of a mining company on the way to production. The following is a mining adaptation of the standard business school chart of the value of a new business startup: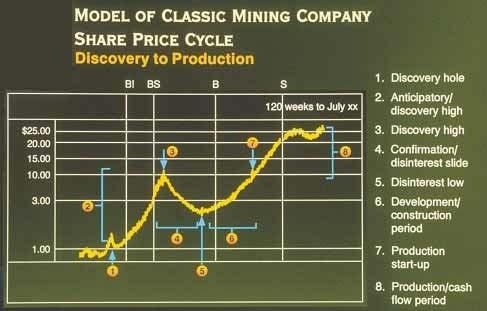 source: Casey Research
Junior miners that are fortunate to sit on that sweet spot of item 7 – the production start-up phase, on the chart curve, are just arising from the disinterested lows during the mine construction stage and poised to rise substantially on the production news and the forthcoming news of turning profitable. As the business schools teach and the chart shows, the high growth stage (the chart diagram is exponentially marked vertically) of the company lies ahead. Most of the risks of the mine construction and development are behind them. The tasks of company management at this point is to execute upon the full commercial production and find ways to expand and grow production and profits.
And speaking of profits, one likely prospect that matches the above profile is Great Basin Gold (GBG). GBG has just disclosed that they have sold gold this last quarter to the tune of 31,000 ounces:
The Nevada operations reported an increase in production related, mainly, to higher tonnages from trial mining and improved operational performance of the Esmeralda mill, resulting in approximately 31,000 gold equivalent ounces (Au eqv oz) being sold during Q4 2010. This is a substantial increase over the 11,000 Au eqv oz sold in Q3 2010. Cash costs were also lower at approximately US$680/oz, a 20% quarter-on-quarter improvement. Additionally, 3,500 ounces were delivered to the refinery; these will be recognized as revenue in Q1 2011.
Also, part of the above news release is the fact that GBG will declare commercial production being attained on their flagship Burnstone gold mine within a few weeks time. The above announcement is just a precursor to GBG announcing their 2010 year end financials within 2 or 3 weeks. The prospect is that GBG will also declare the point that they have just turned cash flow positive.
How about another mining junior, but in another sector not so precious and not related, such as coal? Take the new developing coal miner Xinergy (XRGYF.PK), operating in Kentucky and West Virginia. Nothing fancy or elegant about digging up the dirty black lumps and shipping them off to be used as fuel for electrical power generation. Since startup in 2008, Xinergy has grown their coal mining operations from one project, Straight Creek, Kentucky to their second, Raven Crest, West Virginia, and is further acquiring a third metallurgical coal project in West Virginia. As disclosed in their 2011 outlook, Xinergy are projecting increasing production:
We expect a strong year in 2011 with production on our existing properties ranging from 2.8 to 3.0 million tons with contracted sales of 1,348,000 tons or 48-54% of forecasted production at an average sales price of $98.16/ton. As market conditions continue to improve, we see 2012 as a banner year with increased production in the 3.5 to 4.0 million range on our existing projects alone.
About 50% of their future production in 2011 is contracted with power utilities for at $98 per ton. The company is expecting to keep cash production costs under $50 per ton. Meanwhile, with the latest news of the EPA vetoing the Mingo-Logan's mountain top removal coal mine in West Virgina, this is signaling that coal mining is becoming more difficult to obtain environmental approvals. This limiting of new coal mine development sets the stage for coal pricing to advance higher in the future.
In examining Xinergy's Q3 2010 financials (.pdf), one finds that production has been ramping upwards and Xinergy is moving towards profitability with a net loss of only $0.25 million for the last quarter. So the main point to note here is that similar to Great Basin Gold, Xinergy, in announcing their year end results in a few weeks, will also possibly announce the event of turning the corner into profitability.
As you reader/investors may be aware, the turning to profitability of a mining company does absolute wonders for the price of a stock.
Disclosure: I am long GBG, and am also long Xinergy.
The original article is published at http://www.c2ads.net/full-text-rss/makefulltextfeed.php?url=http://seekingalpha.com/sector/gold-precious.xml&format=rss&submit=Create+Feed
Looking for a precious metals provider that sells gold coins and bullion (including junk silver)? Click here to visit our favorite provider (FREE SHIPPING!).