In early January, the Gold Currency Index (GCI) broke below long-term uptrend support, negatively diverging from gold in U.S. dollar terms and suggesting the start of a correction or extended period of consolidation. Last week, gold broke below long-term uptrend support as well, confirming the development of a short-term downtrend from the beginning of the year.
As longtime readers know, the GCI has an excellent track record when it comes to predicting the future direction of the gold market, and it has anticipated every major breakout and correction since it was created in 2005.
Click to enlarge: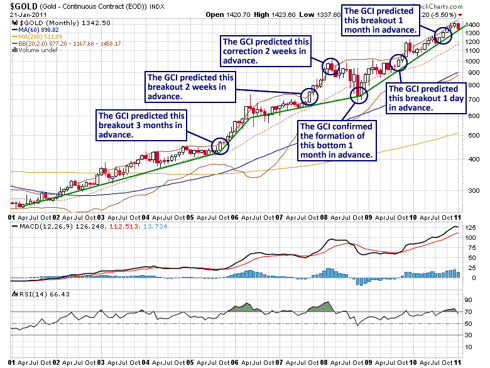 The reason the GCI has been so successful during the past six years is also the reason that it was created in the first place: Gold has taken on the role of an international currency. When the secular bear market in stocks began in 2000, we expected gold to embark on a secular bull market in response to the inevitable fiscal and monetary responses of the federal government. Events unfolded precisely as expected, and the price of gold has been steadily rising for ten years now.
As the secular bull market matured last decade, we wanted to devise a method to track the intrinsic value of gold as an international currency, thereby eliminating the impact of inter-country currency relationships. We developed a composite of gold prices in the currencies of 10 of the largest economies in the world as defined by GDP in 2005, and the GCI was born. Its performance since then has certainly validated the premise that led to its creation.
Looking ahead, intermediate-term cycle analysis indicates that gold is on the brink of forming the next meaningful low. We are now 25 weeks into the cycle following the last Intermediate-Term Cycle Low (ITCL) on July 30.
Click to enlarge: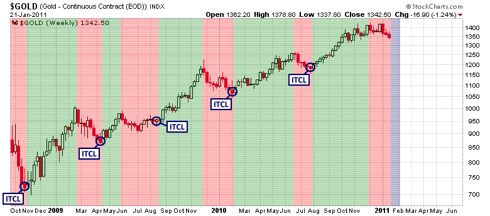 Ninety percent of all intermediate-term cycles are 23 weeks or shorter, so the latest ITCL is currently overdue and could occur at any time during the next few weeks. There is congestion support in the $1,320 area on the previously displayed daily chart and long-term uptrend support at $1,300 on the weekly chart below, so it is likely that the next low will develop at or above one of these support levels.
Click to enlarge: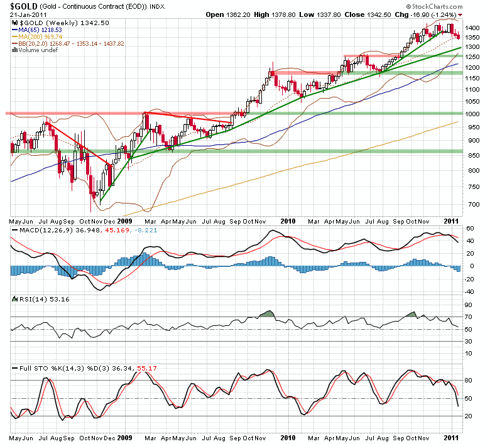 Technical indicators are currently bearish on the daily and weekly charts, supporting a continuation of the developing correction, so we will simply have to wait and see where this next intermediate-term low ultimately forms during the next few weeks.
Disclosure: I am long SGOL.
The original article is published at http://www.c2ads.net/full-text-rss/makefulltextfeed.php?url=http://seekingalpha.com/sector/gold-precious.xml&format=rss&submit=Create+Feed
Looking for a precious metals provider that sells gold coins and bullion (including junk silver)? Click here to visit our favorite provider (FREE SHIPPING!).