Stillwater MIning Company (SWC) is a palladium, platinum, and associated metals (PGMs) producer. Stillwater is the only primary producer in the United States. Its primary mining area is located in the J-M reef. This area is the highest grade PGM ore body in the world. Stillwater has two Montana mines. The Stillwater mine is near Nye, and the East Boulder mine is near McLeod. Columbus, Montana currently houses a smelter and base metals refinery. These parts create an integrated miner, with the ability to mine, smelt, and refine. Stillwater also engages in a growing recycling business.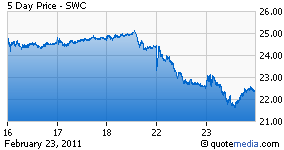 As with my article on North American Palladium, demand is driving palladium pricing. Automobiles are the story here. Not only has global demand increased, but countries are really cracking down on pollution. Both of these are bullish for palladium pricing. Fuel cells are also an increasing market. Platinum has become a favorite with respect to jewelry. ETFs are also involved in purchasing precious metals, and as they buy more, these prices will continue to rise.
PGMs have further issues, as South African production has been limited due to water and power limitations. South Africa also has rising production costs, safety concerns and political instabilities. It seems there are no reasons for supply growth with respect to PGMs. Lastly, the Russian governments strategic palladium reserves look to be depleted. With much of the world's supply inventory gone, prices should continue to go up from here.
Stillwater is well positioned here. As of 12/31/09 they had proven and probable reserves at 20.6 million ounces of platinum and palladium. There is an additional mineral resource estimated at 117.4 tons at grade of .46 ounces per ton. Stillwater is looking to diversify and expand its holdings. The company plans to increase its recycling facilities. Currently, Stillwater is considering expanding both mines. It is also considering acquiring Marathon PGM Corp. Even in the downturn, this company not only has decreased costs but also increased production.
Even though production in 2010 was lower than 2009, Stillwater increased net income. In 2009, Stillwater produced 391,600 ounces of metal. In 2010, they produced 364,000 ounces. Net income in 2009 was a loss of $2.9 million. In 2010, net income was $33.8 million. Cash and investments increased by almost $59.
In order to decrease costs during the downturn of 2008, SWC restructured operations. During this time miner were transferred from East Boulder to the Stillwater mine, In doing this production was increased from 2008 to 2009 by 13%. At the same time East Boulder's production only decrease 9%. After decreasing East Boulder's work force by half, costs were decreased from $451/oz to $409/oz. Mine developments from 2004-2008 have provided Stillwater the latitude to decrease cap ex in 2009 and 2010.
Stillwater has had a history of selling 70% of its platinum and 80% of its palladium in a long term contract to Ford Motor Company (F). This agreement included floors and ceilings that Stillwater has wanted removed. No matter what happens with this agreement there is still a very liquid market outside current contracts. It seems platinum and palladium miners have price advantage, and may be able to get even higher pricing going forward. Stillwater is also expanding its recycling business, and seems willing to continue doing so.
Since 2007 Stillwater has not seen much for sales increases per ounce, but they are seeing an ability to make a profit. As of the first nine months of last year Stillwater became profitable. It seems this will continue as the price of palladium and platinum are both beneficiaries of inflation. Increasing car build rates overseas, and domestically should continue to push prices higher. Also, increasing environmental controls increase need for platinum and palladium catalysts. Much of demand since 2004 with respect to palladium is coming from China. Platinum demand has been decreasing in Japan but that decrease has been substituted by demand in China.
It is also very important to discuss where platinum and palladium comes from. Many of the areas of production are in volatile areas prone to supply disruptions. This also creates large movements in price. Palladium production by location in 2009 was:
South Africa- 2.53 million ounces
Russia- 2.6 million ounces
Russian inventory- .96 million ounces
North America- .75 million ounces
Others- .335 million ounces
Recycling- .95 million ounces
Platinum production by location in 2009 was:
South Africa- 4.725 million ounces
Russia- .745 million ounces
North America- .255 million ounces
Others- .33 million ounces
Recycling- .8 million ounces
It is important to note that in 2009 world platinum production was a large decrease when compared to 2007. In 2007 there were 9.595 million ounces produced and 8.125 million ounces in 2009. Palladium has the same story unveiling, as 2007 world palladium production 7.535 million ounces and in 2009 6.855 million ounces were produced. South Africa controls a majority of production in both metals and any political issues would significantly increase prices.
Russian inventory drawdowns of palladium are a large part of palladium pricing. It is estimated that over the last 20 years Russian inventories have accounted for 27% of overall production as stated by Stillwater management. Russian management has stated that inventories are now depleted, and thus creating an uptrend in pricing. Although there has been increasing inventory from recycling, it does not seem to be enough to replace Russian inventory. Market balance with respect to palladium and platinum also seems to show an increased move upward with respect to pricing. In 2007, palladium saw a global surplus of 1.745 million ounces. This number decreased significantly to .535 million in 2008, and an increase to .655 in 2009. Stillwater estimates a negative draw down to surpluses in upcoming years. In 2007 and 2008 platinum saw demand outpace production with draw downs of .08 and .24 million ounces. In 2009, production increases and consumption decreases created a surplus of .14 million ounces.
Stillwater believes that palladium will be used more in upcoming years based on ratios tightening when comparing platinum, palladium and rhodium. This seems to be coming from cost constraints, and a price comparison shows:
Rhodium- $2275/oz.
Platinum- $1715/oz.
Palladium- $644/oz.
*2010 pricing used as of 3rd quarter
It seems that since these metals are interchangeable, a push for palladium use would be seen. Although, in diesel applications platinum is beginning to be used more as the ratio shows increased platinum usage from 6:1 to 2:1. The ratio of rhodium to palladium has shown an increase in rhodium usage from 16:1 to 8:1. It is Stillwater's belief that palladium demand will increase and its ratio to both platinum and rhodium is bullish palladium. This thought process motivated Stillwater to purchase Marathon PGM. This purchase stands to increase production by 40%. Measured and indicated resources show mine life of 12 years at 200000 ounces of PGM and 39 million pounds of copper per year.
In summary, Stillwater is a buy on current market conditions present in platinum and palladium. At current emerging market automobile purchases, these metals will become increasingly difficult to obtain. Those already in the market stand to see large profit increases until other projects can come on line. As with North American Palladium (PAL), this company is a buy as long as current market demand continues.
Disclosure: I have no positions in any stocks mentioned, but may initiate a long position in PAL, SWC over the next 72 hours.
The original article is published at http://www.c2ads.net/full-text-rss/makefulltextfeed.php?url=http://seekingalpha.com/sector/gold-precious.xml&format=rss&submit=Create+Feed
Looking for a precious metals provider that sells gold coins and bullion (including junk silver)? Click here to visit our favorite provider (FREE SHIPPING!).