By Brad Zigler
The crisis in Egypt really stirred up the gold market Friday. And why shouldn't it? After all, there was a weekend — and a likelihood of increasing violence — ahead. On Monday morning, though, with the world markets open, the fear seemed to dissipate.
There's a lot of fear premium embedded in gold's price. Over the past three months, we've come to see the degree of volatility in that component. Now, there's opinion aplenty explaining the weakness leading into Friday's price spike. The truth is laid out in the numbers.
The weekly Commitment of Traders reports have been signaling a downtrend in speculative interest in gold for months. There's a lot of talk about the power of commercial traders — banks in particular — in the gold market, but for the past three years, there's been a back-and-forth struggle between commercials and money managers for market dominance. It's been fairly common, in fact, for the net long position of these funds to outsize commercials' net short stake.
The degree of the funds' commitment to the long side, though, has been waning since the run-up to last fall's election. The ratio of long-to-total positions held by fund managers, once as high as 99.6 percent, fell to 84.0 percent last week.
Money Managers' Net Long Gold Concentration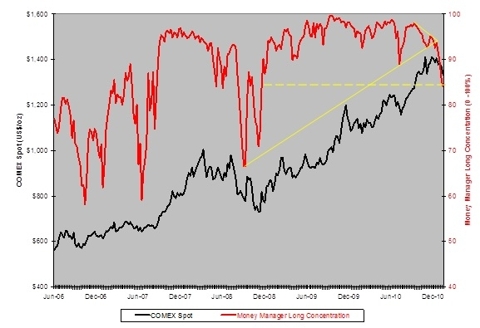 To put this number in perspective, consider this: The funds' five-year average long concentration has been 88.6 percent. Last week's number were subpar.
Of course, money managers aren't the only traders who tend to trade on the long side. There are independent traders — large and small — that traditionally tilt toward the buying side. When you add up the net long positions held by money managers, together with that of large and small speculators, you arrive at the gold market's net speculative length.
But that length has been, um, shortening too; to a level not seen since the summer of 2009, in fact.
While independent traders have come in to do some bargain hunting, they're notoriously fickle in their allegiance to gold. Largely, that's due to their capitalization. With fewer offsetting positions, they're forced to liquidate sooner than the big guys when gold's bullish course reverses.
The big movers — the funds — need to come back to gold for any meaningful gold rally to be sustained.
That should tell you who to watch in the coming weeks for clues about the gold market's direction.
The original article is published at http://www.c2ads.net/full-text-rss/makefulltextfeed.php?url=http://seekingalpha.com/sector/gold-precious.xml&format=rss&submit=Create+Feed
Looking for a precious metals provider that sells gold coins and bullion (including junk silver)? Click here to visit our favorite provider (FREE SHIPPING!).