Shares of Molycorp (MCP) have been on an impressive run as rare earth elements (REEs) stocks have been modestly starting to gain some momentum again.
The last run-up was due in some part to China's decision to limit exports of rare earths. According to Reuters, fears that China's curbing of such exports would cause global shortages sparked this investment rush since these elements are essential for an expanding array of high-technology applications, including magnets, metal alloys and batteries for key defense systems, as well as many current and emerging alternative energy technologies.
Long-term, demand for rare earths could continue, though not on the same level as more widely-used and commonly-known metals.
On Thursday, we received news that the U.S. Geological Survey (USGS) has completed a review of China's rare earth industry. It turns out that China produces 95% of the world output of REEs and is also an increasing consumer of REEs, owing to the emergence of new clean-energy and defense-related technologies. The Asian country has been busy during the past 20 years, increasing its output dramatically. Since 1990, China's share of global REE production has increased from only 27% to its current level of 95%.
According to the U.S. Geological Survey's Mineral Commodities Summary, until 1995, the U.S. and China produced equal quantities of rare earths.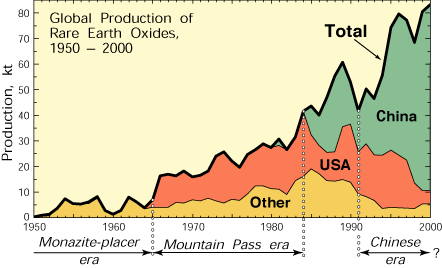 That's where Molycorp comes in. The Colorado-based company focuses on the production and sale of rare earth oxides from stockpiled feedstocks in the western hemisphere. It operates the Mountain Pass mine, a non-Chinese rare earth deposit which is basically an open-pit mine on the south flank of the Clark Mountain Range and just north of the unincorporated community of Mountain Pass, California.
While experts estimate that it could take anywhere from 10 to 15 years to have a new mine up and running efficiently (assuming everything goes according to plan), the U.S. has one of the world's largest and richest rare earth deposits at Molycorp Minerals' facility in California. The company is already producing certain Green Elements following an extensive modernization and expansion project. Molycorp Minerals is prepared to move forward to reestablish domestic manufacturing capacity on an expedited basis – back up to full production in 2011.
Molycorp has yet to show positive earnings but is expected to reach profitability soon. Analysts estimate the company will earn $2.60 in 2012, and nearly double that number by 2013, netting $4.79 a share.
After going public in July 2010, the stock rocketed as high as $62.80 a share, but recently has pulled back and a very interesting bullish continuation pattern has formed.
According to various technical indicators on the latest chart (see above), the stock appears coiled up and looking for any excuse to break out to beyond the triangle and head toward the $60-plus level where it can re-test those recent highs.
During Thursday's trading, prices also crossed the 50-day moving average, which now becomes support and provides traders with a relatively safe trade entry with lots of upside in both the short and long term.
No doubt, speculators will be watching the trading action closely during the next session. I will too, with great interest.
Disclosure: I have no positions in any stocks mentioned, but may initiate a long position in MCP over the next 72 hours.
The original article is published at http://www.c2ads.net/full-text-rss/makefulltextfeed.php?url=http://seekingalpha.com/sector/gold-precious.xml&format=rss&submit=Create+Feed
Looking for a precious metals provider that sells gold coins and bullion (including junk silver)? Click here to visit our favorite provider (FREE SHIPPING!).