Stillwater Mining (NYSE:SWC) swung to a profit in the fourth quarter as the company benefited from higher platinum group metal (PGM) prices and a recovery in recycling volumes.
For the fourth quarter, the company reported $16.5 million in net income, compared to a $5.8 million loss in the prior year period. Stillwater said the fourth quarter 2009 results included an $8.1 million loss relating to the retirement of debt.
Besides processing PGM and palladium mine concentrates from its operations in south central Montana, Stillwater also recycles spent catalyst material to recover the contained PGMs.
Revenues during the period totaled $144.7 million, up 42.1% from a year earlier. Sales from mined PGMs rose 31% to $105.1 million, reflecting higher prices as the global auto industry recovered and exchange traded funds sparked investor interest.
Sales from mine production totaled 117,100 ounces in the fourth quarter at an overall average realization of $844 per ounce, compared to 128,000 ounces at $579 per ounce in the year-ago period. Average realization for palladium also rocketed to $619 per ounce from $374 per ounce.
"Not only did PGM prices increase during 2010 as we had predicted, but the market price of palladium, our principal product, doubled and converged upward toward the market price of platinum — advancing from 21% of the price of platinum at the bottom of the recession to 45% at the end of 2010," said chairman and CEO Francis R. McAllistair.
Recycling revenues jumped by 76% to $38.0 million during the most recent quarter, due to greater volumes of processing materials. Volumes of recycling materials available for processing had fallen off in 2009, as the steep drop in PGM prices reduced the incentive to recycle and fewer cars were scrapped.
Total cash costs, after by-product and recycling credits, were $432 per ounce, a 22.7% year-over-year increase. The company said this was due to lower overall ounce production in 2010, as mine ouput from the Stillwater mine in south central Montana suffered because of operational and ore grade problems.
For the full year 2010, the company reported a profit of $50.4 million, or $0.51 per diluted share, versus a 2009 net loss of $8.7 million, or $0.09 per share. Revenues rose to $555.9 million from $394.4 million in 2009.
In November last year, Stillwater completed the $173 million acquisition of Marathon's platinum group metal assets, consisting of a PGM-copper project near the town of Marathon, Ontario – expected to begin construction in 2013. A feasibility study of the project indicated a 12 year mine life, with annual production of approximately 200,000 palladium and platinum ounces, along with 37 million pounds of copper per year.
At year-end, Stillwater had available cash and equivalents of $208.4 million.
Disclosure: None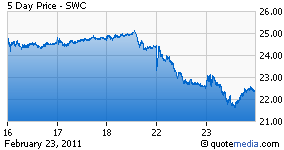 The original article is published at http://www.c2ads.net/full-text-rss/makefulltextfeed.php?url=http://seekingalpha.com/sector/gold-precious.xml&format=rss&submit=Create+Feed
Looking for a precious metals provider that sells gold coins and bullion (including junk silver)? Click here to visit our favorite provider (FREE SHIPPING!).