The number $50 per ounce appeared in another discussion about silver. I first came across this target in James Turk's theory about three stages for silver's bull market with stage 2 beginning at $50. This time $50/ounce came up in an interview with Silver Wheaton's CEO, Peter Barnes, as he discussed SLW's earnings results on CNBC (video below).
Barnes noted that some "reputable banks" have made predictions for silver to hit $50/ounce by the end of the year. He thinks silver will definitely go through $50 in the next 2-3 years, but it "could be quicker." Barnes's bullishness was confirmed when he stated that hedging the company's silver is nowhere on the horizon; hedging might be considered once silver hits $50. (Silver closed at $35.33 on Friday, March 4).
Silver's bull run continues apace, and I am quite surprised that SLV, the iShares Silver Trust, is already up 10% since I was compelled to go to Plan B for rebuilding my silver positions. While Pan American Silver Corp (PAAS) has to-date been the company I use to trade around a core silver position with SLV, I clearly need to give SLW more serious thought. For example, PAAS has not yet hit new 52-week highs, and SLW did so on Monday. Moreover, SLW presented a very compelling case for its shares over SLV in a corporate presentation released on Wednesday. Whereas both SLV and SLW give investors a concentrated exposure to silver, SLW provides five other benefits that SLV lacks (see slide #7):
Better Leverage to Silver Price
Exploration Upside
Expansion Upside
Acquisition Growth Potential
Dividend Yield
Note that SLW just announced an inaugural dividend of 3 cents per share.
Here are some highlights from the interview with Barnes:
90% of revenues from silver, 10% from gold.
Prices never go straight up…in a cyclical business, but in 3-5 years, and probably longer, silver prices will be extremely high.
Investment demand, not industrial demand, has driven silver prices for the past several years.
China was a net exporter of silver 5 years ago, about 100M ounces. In 2010, China was a net importer by more than 100M ounces.
The overall market for silver is only 700-800M ounces.
It is difficult to get any more bullish….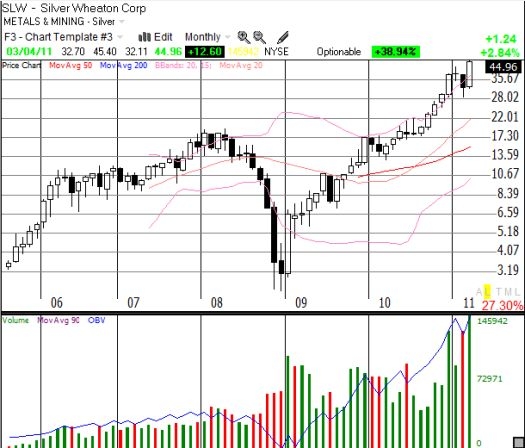 SLW is up an incredible 39% in just the last month of trading on very strong buying volume
The original article is published at http://www.c2ads.net/full-text-rss/makefulltextfeed.php?url=http://seekingalpha.com/sector/gold-precious.xml&format=rss&submit=Create+Feed
Looking for a precious metals provider that sells gold coins and bullion (including junk silver)? Click here to visit our favorite provider (FREE SHIPPING!).