Friday's Bank Participation report showed a large reduction in the U.S. silver short position. The net short position changed from 22,340 contracts in January to 18,935 in February. The U.S. banks reduced their net short position by 9.2%.
U.S. bank short covering has been the trend in silver since November 2009. As I've mentioned numerous times in recent months, the short covering can be attributable to several factors, all of which are important and will send silver higher over the next months, quarters and years. I really began pounding the table a few weeks ago, when silver was hovering around $27/oz (at least for the next leg-up, as I have been writing article upon article for Seeking Alpha and other sites since silver was in the low-mid teens and gold was under $900/oz).
For those pressed for time, these factors include encouraging supply-demand dynamics, inflation, short covering by the commercial banks (see any of my numerous COT analyses for a more in-depth explanation) and most recently backwardation (which is telling the market there is a physical constraint as the futures curve is downward sloping).
[Click all to enlarge]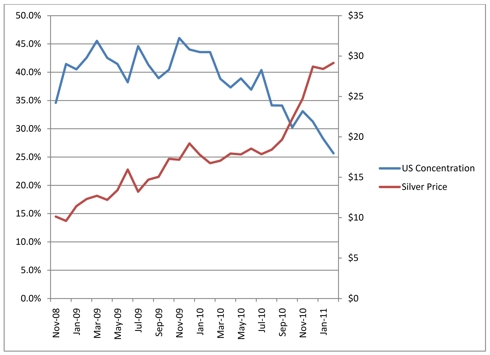 U.S. bank short covering has been accompanied by rising silver prices. Silver prices have risen 70% since U.S. bank concentration last reached 40% in July 2010. In fact, there has been a statistically significant negative relationship between bank concentration and silver prices (96.4%). Every one percent decrease in concentration has resulted in a 40 cent increase in silver prices.
The above graph is what I like to call the J.P. Morgan (JPM) Effect, as those familiar with the situation know JP Morgan holds the largest net short position in the grey metal, though this may be coming to an end. The results of a linear regression as mentioned above do show this effect, as the outputs are statistically significant despite a rather low R-square. Of course this is also a likely effect of other commercials covering their short positions, but it looks as if it is a result of the mimicking the biggest manipulator out there.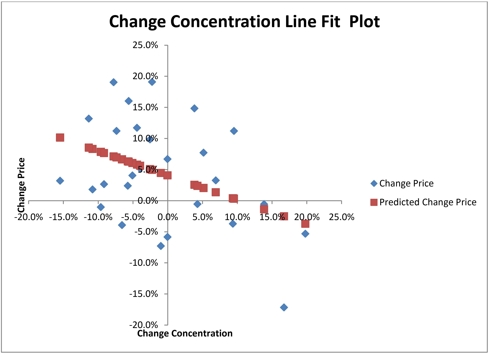 There has been a reliable negative relationship between U.S. concentration and silver prices since November 2008. There are good reasons to believe this relationship will hold, and maybe intensify, going forward. There are also good reasons to believe U.S. concentration will continue to fall. This suggests higher silver prices.
Once again, some asset strategies:

Physical Gold and Silver, or ETFs such as PSLV or PHYS, whose shares are redeemable for the physical bullion or SLV and GLD.
Royalty Companies: A leveraged play in the equity arena with greatly reduced mining risk: Royal Gold (RGLD), Silver Wheaton (SLW), Franco-Nevada (FNNVF.PK) and Sandstorm Resources (SNDXF.PK).
Disclosure: I am long RGLD, SLW, FNNVF.PK, SNDXF.PK, AXU, EGO.
The original article is published at http://www.c2ads.net/full-text-rss/makefulltextfeed.php?url=http://seekingalpha.com/sector/gold-precious.xml&format=rss&submit=Create+Feed
Looking for a precious metals provider that sells gold coins and bullion (including junk silver)? Click here to visit our favorite provider (FREE SHIPPING!).