Precious metals were responsible for a large portion of our 67% gain in 2010 and have caused our accounts to rally aggressively in February after pulling back 0.5% in January. We'll have to wait for full month February numbers, but our average account is up more than 10% for 2011 already. However, it is always wise to be most cautious when things are going well. With that in mind, let's take a look at the silver market for signs of where it may head next.
The past week saw silver jump from $29.995 to $32.3/oz., a 7.7% gain. As we have long opined, silver and gold are in the midst of structural bull markets that should take them far higher in the coming weeks, months, and years.
Volume on Silver Futures and the SLV
The below chart shows silver futures and their corresponding volumes on a weekly basis over the last year.
Click to enlarge: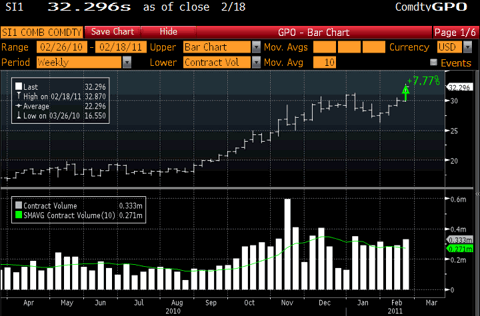 As can be seen from the chart, volume on silver futures increased greatly with the rally, a good sign that investors are gaining confidence as the price of the metal increases. Aside from the low volume weeks around Thanksgiving and Christmas/New Years', silver futures volume has been greatly elevated.
Last week, volume on silver futures was 333,000 contracts, or about 23% higher than the 10 week moving average. This larger-than-normal volume on silver is a positive sign that there is wide breadth in the silver rally. Generally speaking, the higher the volume behind breakout moves in a security, the more confidence can be had in that security continuing to rally.
However, since silver futures are highly leveraged, requiring only $10,400 to control $156,500 worth of silver at today's prices, futures traders can quickly become skittish and bail, causing a correction. We need to look at the SLV in conjunction to determine whether institutional and individual investors are also participating in silver's rally.
Click to enlarge: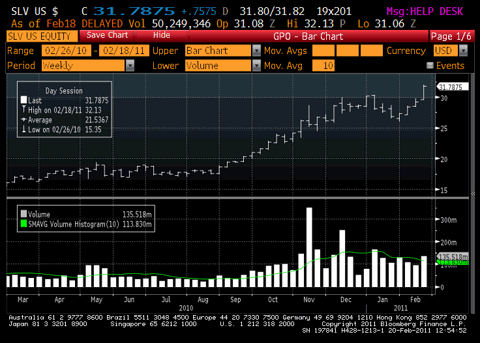 The chart shows that the SLV traded 135 million shares last week compared to 113 million for the 10 week moving average. This amounts to a 19% increase in volume.
Clearly, both futures traders and ETF buyers are heavily participating in silver's rise. The increased volume behind last week's move gives credence to the notion that the current uptrend can be sustained.
This Week's CFTC Commitment of Traders Report
This week's COT report shows a continuation of recent trends. The chart below shows the price of silver in gray, Managed Money net longs in green, and Producer net shorts in blue.
Click to enlarge: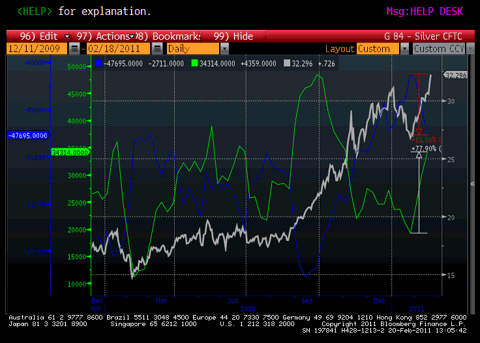 The last 3 weeks have seen the Managed Money net long participation increase almost 78%, a huge increase in net long positions. As we have stated repeatedly, increased Managed Money long participation is necessary to keep the silver bull market alive, as they arrive quickly and push prices around.
However, the trend in Managed Money longs can be thought of as somewhat of a contrarian indicator because of the huge leverage involved in futures. As we saw in January, Managed Money can be very fickle and bail at the first sign of trouble, but then reenter quickly once it appears the uptrend has resumed. This phenomenon is an inevitable cycle of futures markets, and the resulting volatility can be utilized to a savvy investor's benefit by selling put options and increasing long exposure during pullbacks. But one must have the patience to wait for the inevitable corrections.
Even with Managed Money net long participation up 78% in the last 3 weeks, it remains more than 14,000 contracts below the peak set on September 28. We may see a new high in Managed Money net longs during the current surge in silver prices, so the upwards trend could continue significantly longer before pulling back.
During the same 3 week period, Producer net short contracts increased 15.5%. It is interesting that the short covering theme of the huge surge in silver late last year has reversed course even with silver hitting new 31-year highs. As we commented quite a while ago, due to the massive size of the Producer short position, it is most likely comprised of commercial bank prop trading as well as the traditional producer hedging. Because silver has displayed backwardation recently, it is entirely plausible that the recent increase in Producer shorts is due to producer-selling of long-dated silver futures. While we are not of the belief that commercial short covering is the primary driver behind the silver rally, it is an interesting story to keep an eye on, and possibly more fuel for silver's fire.
Trade Recommendation
While the large increase in Managed Money long participation could cause a short term correction if they sense trouble, the silver rally is well intact. Any correction or pullback should see a hard floor around the $26.75 level, the same level it bounced off of a few weeks ago. We would advocate selling puts at or below this level, as a return to it is highly unlikely in the near future. As has been the case, all pullbacks should be seen as a buying opportunity and should be utilized to build or add to an existing position in silver. Selling covered calls against existing silver positions is a great way to hedge a bit in case of an extended correction.
We continue to be long silver and gold futures, short silver and gold put options and long GDX, GDXJ, and SLW. We will add on all pullbacks.
Disclosure: I am long SLW, GDX, GDXJ.
Additional disclosure: long silver and gold futures
The original article is published at http://www.c2ads.net/full-text-rss/makefulltextfeed.php?url=http://seekingalpha.com/sector/gold-precious.xml&format=rss&submit=Create+Feed
Looking for a precious metals provider that sells gold coins and bullion (including junk silver)? Click here to visit our favorite provider (FREE SHIPPING!).