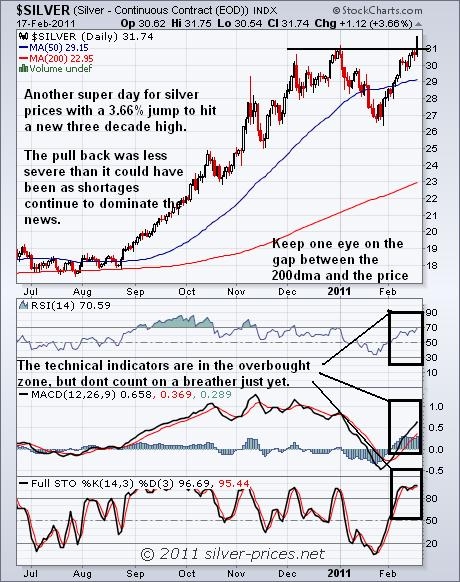 Another super day Thursday for silver prices, with a 3.66% jump to hit a new three decade high. The pull back was less severe than it could have been as shortages continue to dominate the news. The technical indicators are in the overbought zone with the RSI just above the '70′ level sitting at 70.59, however, it can stay there when it's in the mood. Also watch the yawning gap that is developing between the 200dma and silver prices. The chart suggests that we could now be in for a breather, but don't count on a breather just yet as the physical market is struggling to meet demand.
This is a quote from Eric Sprott taken from his 'Markets at a glance' article where he referred to the demand for gold and silver akin to a tsunami as follows:
We believe Asian demand for physical gold and silver is akin to a tsunami. While precious metals prices have corrected on the paper exchanges, the inflation resurgence in Asia is quietly driving new, unforeseen levels of physical demand for the metals. While the world continues to float on a sea of paper, this massive wave of physical demand silently threatens to crash into the physical gold and silver market, potentially wiping out tangible supply.
A tsunami. Well, these are very strong words indeed, but we wouldn't bet against him, not with silver in backwardation as it is at the moment. This is a situation where the spot price for silver is greater than the futures price, a rare event and usually bullish for prices. We now pop across to King World News where James Turk had this to say:
I always listen to what the market is telling me. The backwardation and all of the other factors that we have been talking about mean that the market is telling us the situation in silver is very bullish, regardless of what the naysayers are spouting. We now have almost four months of solid accumulation here in the $1,300's which does provide a huge base for much higher prices. With that kind of base in place we should not only see gold take out its previous highs, but I believe this will provide the launching pad for a very significant move in the price of gold. We have previously talked about a target for gold of $1,800 for this year. The bottom line here is that both of these precious metals have a lot more left in this move.
It's important for silver prices that gold gets its skates on and makes some progress in support of silver, which in our humble opinion, will lead this next charge to higher ground. On the negative side, today is the options expiry day for stocks, and therefore could be a strange one as the various involved parties try to push prices in a direction that is advantageous to their particular position.
Turning towards the east, we have now witnessed the complete reversal by China from being an exporter of silver to an importer of silver as the following chat clearly shows, sent to us by one of our eagle eyed readers and is very much appreciated.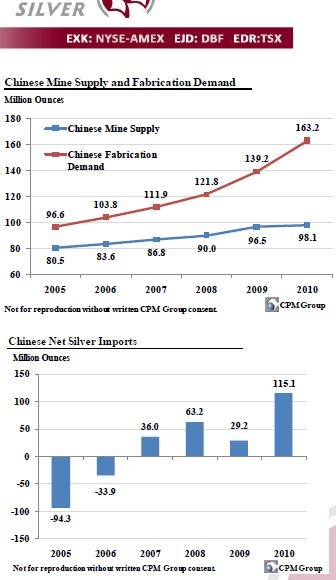 Now, please be very careful if you are going short in this market. As we see it, things are just starting to warm up with much higher prices lying ahead of us. The next up leg will be spectacular, causing the shorts to cover at panic speed, which in turn will result in eye bulging silver price spikes.
You have been warned.
Disclosure: I am long SLW.
The original article is published at http://www.c2ads.net/full-text-rss/makefulltextfeed.php?url=http://seekingalpha.com/sector/gold-precious.xml&format=rss&submit=Create+Feed
Looking for a precious metals provider that sells gold coins and bullion (including junk silver)? Click here to visit our favorite provider (FREE SHIPPING!).