Today's action in the silver market (down almost $1 an ounce as this is written) will do little other than reinforce the recent trend for the "tonnes in the trust" at the world's most popular silver ETF – the iShares Silver Trust (NYSE:SLV) – that is now almost 350 tonnes lighter than it was on the first day of the year.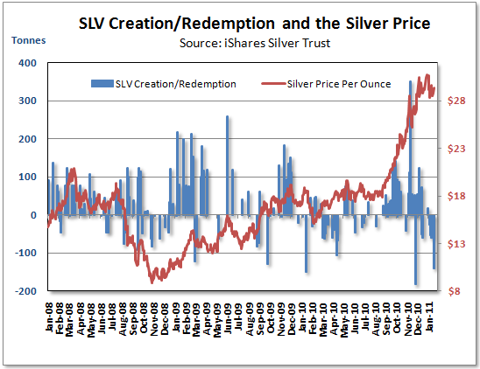 Of course, this comes after 1,135 tonnes of silver were added in the fourth quarter with more than 1,700 tonnes entering the trust during the second half of 2010, so, thus far the exodus of metal has made only a small dent in the fund's 10,575 tonne holdings.
This also comes at a time of record demand for silver coins at the U.S. Mint and exceptionally strong physical demand from Asia. The metal is long overdue for a good correction and it looks like one may now be underway.
Disclosure: Long SLV at time of writing
The original article is published at http://www.c2ads.net/full-text-rss/makefulltextfeed.php?url=http://seekingalpha.com/sector/gold-precious.xml&format=rss&submit=Create+Feed
Looking for a precious metals provider that sells gold coins and bullion (including junk silver)? Click here to visit our favorite provider (FREE SHIPPING!).