As usual I scan news and data sources for any nibble of information I can find regarding any investment, and read plenty of material, and in my quest to examine the fundamentals behind the rapid ascent of silver prices, I came across the monex.com website and only chose this particular statement for its brevity, because simliar claims abound.
Worldwide market demand for silver is growing, while supplies of silver are quickly disappearing. New high-tech uses for silver will further strain already-tight supplies in the future. World demand for silver now exceeds annual production and has every year since 1990, depleting above-ground stockpiles of silver. The U.S. government, once the largest stockpiler of silver on the planet, dumped billions and billions of ounces of silver onto the world market over the years, resulting in depressed silver prices. Today, that government silver hoard is gone, and now the U.S. government is a buyer of silver at prevailing world silver prices.
The first question is, "Why would the U.S. government buy silver when confronted with an exploding deficit?" Makes no sense. Based on the statement posted by monex.com, one should rush to market with a shopping cart and load up as much silver as one could possibly find. But experience has taught me that, just like in a divorce, there are two sides to every story. And what better source to compare notes than GFMS, a company providing research into the global gold, silver, platinum and palladium markets, and the publisher of the World Silver Survey for the Silver Institute, an association of silver miners, refiners, fabricators, and manufacturers, based in Washington, D.C.
If "silver is the poor man's gold" then the cliché appears to be invalidated based on the performance of both metals over the last 12 months, with gold up by 25% and silver climbing about 100%.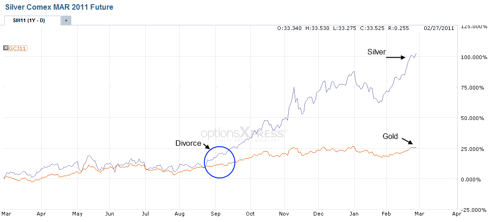 (Click chart to expand)
Let's look at supply and demand. The most recent report (pdf) I could find was a press release by GFMS dated November 17, 2010, and its bullet form quickly summarizes the data. I highlight here some key points that address the monex.com statement that "supplies of silver are quickly disappearing," and you can read through the report at your own leisure.
Total supply is forecast to end its three-year run of stability and rise by 5% in 2010. Much of the gains will come from higher mine production and scrap, plus a higher but still modest absolute level of government sales.
Silver's fundamental demand (i.e. excluding investment) should continue to rise next year, chiefly due to gains in industrial uses. However, this will be outweighed by gains in total supply as mine output rises (both scrap and government sales are projected to fall). While this might appear bearish, we remain confident that investors will be of a mood to absorb the resultant, growing surplus, as key supports such as ultra-low interest rates, a weakening dollar and a buoyant gold market should remain with us, all of which should be easily enough to rally silver prices yet higher.
Where monex.com, and others, state that the "U.S. government is a buyer of silver at prevailing world silver prices," GFMS offers a broader, conflicting statement that the market will experience "higher but still modest absolute level of government sales," not purchases. Food for thought. And what could potentially be perceived as a subtle disclaimer by GFMS in the November 2010 report mentioned above is that "The main driver of the price remains investment demand and, in GFMS' view, this has elevated silver to well over fundamental equilibrium levels in the absence of such investment." GFMS may be right that investors will continue to direct funds into the silver investment vehicles, which would support the continued price increase, but in keeping the honesty theme intact, there's no shortage of silver as claimed by some organizations and individuals — and I've seen that argument far more often than I care to count.
The World Silver Survey 2011 will be published in April 2011, by GFMS, and as of now we have a summary of the 2010 edition, with useful data tables that will help silver investors have a better view of the market in 2009, courtesy of the Silver Institute. According to the Institute, and referring to 2009, "Government stocks of silver are estimated to have fallen by 13.7 Moz over the course of last year [2009], to reach their lowest levels in more than a decade. Russia again accounted for the bulk of government sales, with China and India essentially absent from the market in 2009. Regarding China, GFMS states that after years of heavy sales, its silver stocks have been reduced significantly." This information counters some of the claims that I have read.
So why has silver outperformed gold over the last 12 months, and literally "divorced" gold as of last September? GFMS provides its assessment in the November 2010 report:
After a 'summer lull', there has been much stronger growth in investor interest. Key to this have been concerns over the solidity of the US dollar and potential future inflation stemming in the main from the Federal Reserve's next round of quantitative easing. Further support has come from a positive price trend, the fact that the all-time nominal high for silver (almost $50/oz in 1980) remains a good way off and as silver's historically greater volatility but close correlation to gold continues to attract those seeking a more leveraged alternative to the yellow metal.
GFMS forecasts the continuation of a healthy market for silver, although the company is "doubtful such elevated levels will be sustained throughout the year and, as a result, we see an annual average either side of $28 as more likely."
But why has silver outperformed gold when the conditions mentioned by GFMS affect both metals equally? I can only speculate on this one, and it may be that the "penny stock syndrome" may be at play here, where one buys one share for 1 cent on the basic assumption that the stock is more likely to appreciate 1000% than a stock priced at $10. Thus far it appears to be working, and although both GFMS and the Silver Institute cite inflation and a devaluing dollar as basic pillars of support, my take is very different on that relationship, and I have expressed my opinion on that topic often enough.
What about the gold market? Similar story, although the yellow metal could be seeing the current status as only a temporary separation and may work hard to save the marriage.
Disclosure: I have no positions in any stocks mentioned, and no plans to initiate any positions within the next 72 hours.
The original article is published at http://www.c2ads.net/full-text-rss/makefulltextfeed.php?url=http://seekingalpha.com/sector/gold-precious.xml&format=rss&submit=Create+Feed
Looking for a precious metals provider that sells gold coins and bullion (including junk silver)? Click here to visit our favorite provider (FREE SHIPPING!).