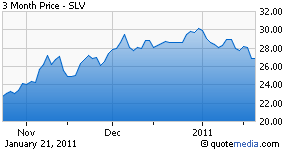 The chart on silver and associated ETFs like the iShares Silver Trust ETF (SLV) just went over a cliff even though retail interest in the "poor man's gold" is at an all-time high. What is going on?
Once again, it seems like the moment the masses buy is the moment the professionals usually see a top forming and start packing it in.
Silver futures hit a 30-year high of $31.25 two weeks ago and have since retrenched a somewhat staggering 10% since. This may be a buying opportunity, but with sales of 1-ounce American Eagle coins cracking a record 4.588 million already this month, it looks like there is already a lot of money chasing this commodity right now.
While silver is a crucial industrial commodity and a precious hedge on inflation and a declining dollar, it has also been widely hyped as a vehicle for public rage against JPMorgan (JPM) and other global banks. "Crash JPMorgan buy silver," as they say.
Nothing inherently wrong with using your money to express your political concerns — social investors do it all the time — but if everyone is doing it at once, the trade gets a little crowded and upside opportunities get limited.
That seems to be what is happening with SLV and similar silver-driven assets like it:
Disclosure: No position
The original article is published at http://www.c2ads.net/full-text-rss/makefulltextfeed.php?url=http://seekingalpha.com/sector/gold-precious.xml&format=rss&submit=Create+Feed
Looking for a precious metals provider that sells gold coins and bullion (including junk silver)? Click here to visit our favorite provider (FREE SHIPPING!).