The "cooling off" of silver and gold has unfolded very slowly over several months. On Thursday, this process entered yet another phase. This time, silver made a clean and strong break below its 50-day moving average (DMA). Silver even made its first lower low since the latest rally began in late summer.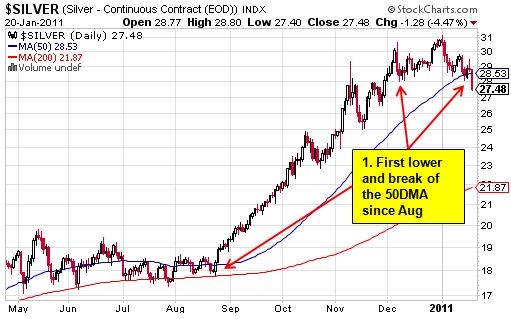 Silver breaks down from recent highs
Gold has spent all of January cooling off as it traded below the 50DMA. On Thursday, it took another step closer to a retest of the 200DMA.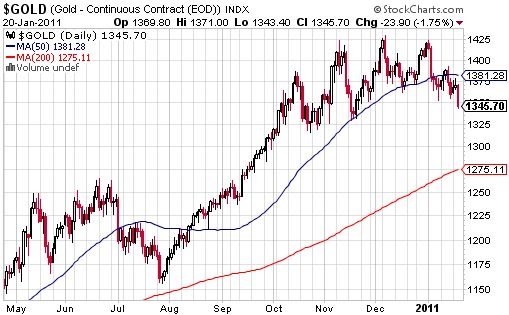 Gold's breakdown continues
As I posted earlier, I am using this cooling off period to rebuild (slowly) my gold and silver positions. I will get most aggressive on any retests of the 200DMA line of support (switching from purchases of mining shares to the commodity ETFs). Trades will be posted on twitter with the #120trade hashtag. I still favor silver over gold for my final positioning, and it looks like the strong out-performance of silver over gold could finally be ending. The weekly chart below shows the recent sharp and persistent downtrend broke in January.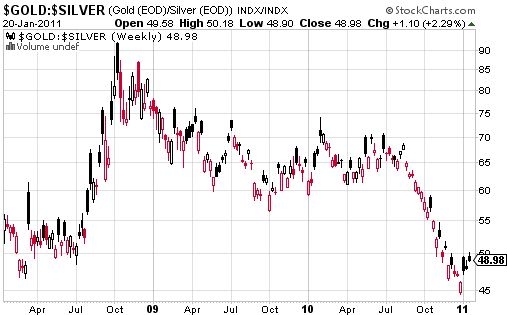 Gold finally breaks the near-term downtrend versus silver
Source for all charts: stockcharts.com
With these breaks, gold and silver's declines may accelerate. I will be looking for renewed strength in the U.S. dollar to lead such a move, but this condition is not necessary for downward momentum to take on a life of its own.
Be careful out there.
Disclosure: Long GG (2 tranches of 3 planned), long PAAS (one tranche of three planned).
The original article is published at http://www.c2ads.net/full-text-rss/makefulltextfeed.php?url=http://seekingalpha.com/sector/gold-precious.xml&format=rss&submit=Create+Feed
Looking for a precious metals provider that sells gold coins and bullion (including junk silver)? Click here to visit our favorite provider (FREE SHIPPING!).