By Brad Zigler
This year has not been good to gold investors, so far at least. Prices are off 3 percent since the top of the year. Granted, we're only three weeks into the new year, but a loss is a loss.
A 3 percent decline's nothing to get excited about, really. Such volatility ought to be expected from a commodity that's gained 17 percent in its average annual price over the past three years.
Still, a little good news for bullion investors could certainly help right now.
Well, here it is: Gold—the metal, that is—is likely to do better in the first quarter than gold stocks. Aside from the wholesale dumping of leveraged assets over the New Year cusp of 2009, bullion's historically outperformed the shares of gold producers in the early part of each of the four past years.
Measured by the GLD/GDX ratio, gold's outperformed mining stocks by a 4.6 percent average.
GLD is the SPDR Gold Shares Trust, which tracks bullion's price. GDX is the Market Vectors Gold Miners ETF, a portfolio of 30 gold producers. The ratio of GLD's price to that of GDX simulates the relative strength of metal to gold-based equities.
The GLD multiple was 1.75x when the Market Vectors fund debuted in May 2006 and rocketed to 4.41x amid the market panic of late 2008. On average, the multiple's hovered near 2.11x.
It's now at 2.39x, up from its 2.18x reading in early December. The GLD/GDX ratio's already gained 8.8 percent this season, a better-than-average improvement.
GLD/GDX Ratio
(Click to enlarge)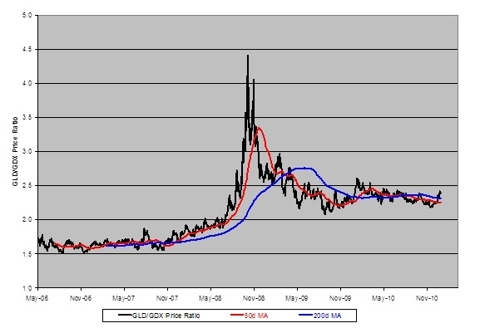 GLD/GDX Ratio's Wintertime Buoyancy
The ratio reflects the varying fortunes of leverage in gold stock investments. Gold stocks tend to outdo bullion on the upside as well as the downside. As gold's slumped this year, the effect's been magnified.
Of course, gold producers played second fiddle to junior gold miners last year. While gold's price climbed 29.3 percent in 2010, GDX rose 33.0 percent. Junior miners, proxied by the Market Vectors Junior Gold Miners ETF (GDXJ), gained 54.7 percent.
Now, with investors' risk appetites changing, the question gold equity investors face is whether producers now have a qualitative advantage over exploration and development companies.
One thing seems fairly certain, though. Over the next month, bullion's got the edge.
Disclosure: No positions
The original article is published at http://www.c2ads.net/full-text-rss/makefulltextfeed.php?url=http://seekingalpha.com/sector/gold-precious.xml&format=rss&submit=Create+Feed
Looking for a precious metals provider that sells gold coins and bullion (including junk silver)? Click here to visit our favorite provider (FREE SHIPPING!).