The rare earths have been on fire. Several good companies with decent assets are in rare earth development. Many are not in the production phase. Molycorp (MCP) seems to be ahead of the game, and that has helped its securing of contracts to provide this production. Avalon (AVL) has a fairly large percentage of heavy rare earths. This seems to be the most important aspect of the company. Rare Element Resources (REE) has seen its stock go from $1.15 to $17.92 in the last year, and looks to be a buy on the recent pullback.
Valuation is difficult in the rare earth element space. Some of the rare earths are hard to find while others are plentiful. Also, some of these elements are in high demand due to LED lighting, magnets and display screens.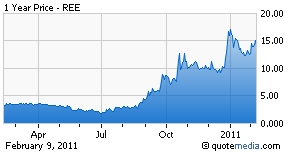 Rare Element has 100% working interest in the Bear Lodge property. This property has gold, but more important, are its rare earths. Bear Lodge has one of the largest disseminated rare earth element deposits in North America. Bear Lodge has high grade rare earths in carbonatite and oxidized carbonatite dikes. The inferred resources here are 17.5 million tons of REO at 3.46%. High distributions of rare earths are seen with respect to Nd, Pr, Eu, Dy and Tb. A positive scoping study has been completed. There has also been a good metallurgical test done on the oxide resources. Bear Lodge has historically been a great mining area. Neodymium, praseodymium, dysprosium and terbium are used in the production of magnets; these are 44% of the total value of Rare Element's rare earth deposits.
Although we are focusing on the rare earths, there is also gold at this location. Rare Element states there is lower grade gold at the surface, but contends higher grade gold may be located deeper at Bear Lodge. The planned resource estimate is later this year. The gold may be an open pit mining location with lower cost heap leaching. If this is the case, production costs will be low.
The 17.5 million tons of inferred resources include near surface oxide mineralization of 8 million tons with 3.62% REO. It also includes another oxide mineralization of 3.3 million tons with 5.84% REO. These easily surpass the cutoff grade. Rare Element is planning open pit mining of 1,000 tons a day. This oxide material will create a mine life of approximately 15 years. It is possible deeper unoxidized material will be mined past the 15 years, depending on possible finds. Metallurgic testing shows a low cost extraction of the rare earths is possible followed by separation and sale of the higher value added products. Rare Element is confident that permits will be obtained as the area is historically favorable. Excellent infrastructure is in place as Bear Lodge is in one the world's top mining regions.
Capital costs are estimated to be $87 million until production. Operating costs are estimated at $213 per tonne. IRR is estimated to be 40%. NPV at a 10% discount rate of $213 million. There is a payback period of 3.1 years with a three year buildup to full production. In October of 2010 the scoping study was finished. In November of 2010 Rare Element completed the drilling and sampling. Pilot plant testing will begin this year. The fourth quarter of this year will have the completion of the planned prefeasibility study.
Rare Element has great possibilities going forward. Rare earths are only profitable if an area has small concentrated locations that can be focused on. Since many of the rare earths are plentiful in the environment, they only have value in specific areas where concentrations are robust. Bear Lodge is special because of the concentrations of rare earths in the carbonatite dikes. After holes were drilled, Rare Element determined these carbonatite dikes were plentiful and the area's mining would be robust. They are also confident these dikes will be easily mined, reducing time and expense, increasing overall margins of the company. Metallurgic testing shows 90% recoverability with respect to grades of 13% to 20% REO.
The Sundance project has prospects in gold. Newmont's (NEM) drilling of the area defined much of the prospects, but since has withdrawn with no vested interest. At the very least, this area has some low grade gold deposits, but Rare Element is optimistic there are higher grades at deeper levels. A resource estimate is planned later this year. Rare Element believes this could be a much larger find as it is much like Cripple Creek in Colorado. Cripple Creek has produced over 23 million ounces of gold since discovery in 1878.
Rare Element is optimistic this area can be mined cheaply enough that funding will be kept low, until the full deposit is realized. Past drilling shows high grade gold in 5 to 20 foot intercepts with grades between .14 and .99 opt Au. Depending on crush size, area testing suggests 65% to 80% recoveries. I would keep in mind that this area is viable based on an appreciating gold price. If the price of gold were to retreat significantly from today's price, it could cause the operation to be unprofitable.
It seems gold is a plus, but REEs are the reason to invest in Rare Element. The reason is the demand. A new Toyota (TM) Prius has 25 to 27 kilograms of rare earth elements. China produces more then 95% of the world supply and they are beginning to use tariffs. Only one mine in North America is in production. Everyday items use REEs:
Televisions
Computer hard drives
Cell phones
DVD players
Cameras
Nickel-metal-hydride batteries
Compact fluorescent lighting
MRI machines
Catalytic converters
Super magnets
These items are why REE use is increasing 10% a year, and looks as though China will not be able to keep up with production. It is possible that China is reducing production for price appreciation. What the reason is doesn't matter as much as how profitable this business can be. Although it is difficult to place a value on these companies, I would follow the trend. Right now this sector seems to be a good trade.
Disclosure: I am long AVL.
The original article is published at http://www.c2ads.net/full-text-rss/makefulltextfeed.php?url=http://seekingalpha.com/sector/gold-precious.xml&format=rss&submit=Create+Feed
Looking for a precious metals provider that sells gold coins and bullion (including junk silver)? Click here to visit our favorite provider (FREE SHIPPING!).