We have long been critical of the precious metal miners for their rather casual approach to dividends, but there seems to be genuine change in the air. It is necessary and important as the gold miners move to plug the leak in their ratings. It has certainly helped to have the likes of BlackRock rapping the industry on its knuckles.
Eldorado Gold (EGO) was the last dividend hold out among senior gold producers. It has now bowed to market pressure and offered shareholders $0.05 per share
Notably, Eldorado has taken a lead in expressing its dividend in terms of a gold equivalency insofar as the payout will amount to approximately $100 per ounce of gold sold by the company in the second half of 2010. If the company holds that policy, investors could be paid nearly $75 million this year which would be almost three times what is currently being offered.
Kudos. It is high time that one of the companies did this, and it should become a benchmark for the industry to commit to pay a percentage of their operating margins as dividends.
This avoids trapping the company in an unsustainable dividend ratio, but holds it to share any bonanza with investors. This would also have the benefit of improving the gearing of gold stocks to bullion prices. Yes, it may make them more volatile, but that is hardly something most gold equity investors fear.
If all the senior gold companies adopted a dividend equivalent to $100 per ounce of gold produced, investors would enjoy a 125% increase in payouts to around $3.5 billion per year.
The only company that currently meets or exceeds the $100/oz dividend hurdle is Goldcorp (GG), which pays about $0.07 more per share than it would otherwise need to. Goldcorp announced a doubling of its dividend in October last year. Goldcorp pays its dividends monthly, and they are running at an annualized rate of $0.36 per share.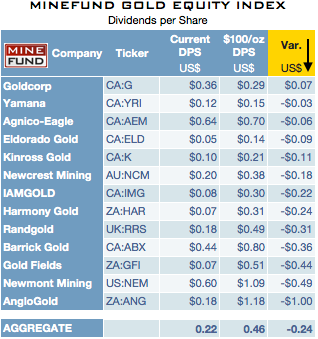 On the other end of the scale, AngloGold (AU) is a full $1 per share short of the $100/oz standard.
AngloGold Ashanti has sharply reduced its payments to shareholders in recent years, though last year's payments were the best in a while. Hopefully, now that it has the millstone of a poorly structured gold hedge book cut away, investors can look forward to significant cash into their pockets.
Improving
In mid-December, Agnico-Eagle (AEM) confirmed it will reward shareholders very handsomely with a 256% increase in its cash dividend, which has been paid every year for nearly three decades. Agnico's 2011 dividend is set at $0.64 per share, to be paid quarterly at the rate of $0.16 per share.
Newmont (NEM) also bumped its quarterly dividend up early last year, raising it by 50% to $0.15 per share, or $0.60 per share per year.
Last month, IAMGOLD (IAG), which has been outperforming its peers very readily lately, announced it was raising its annual dividend by 33% to $0.08 per share. It is also moving to a semi-annual dividend, which is a welcome change.
This follows a 50% hike in the dividend being paid by Yamana Gold (AUY). It will pay quarterly for an annualized rate of $0.12 per share. Yamana also announced a special dividend of $0.01 per share. Yamana boasts paying dividends for 17 consecutive quarters.
Barrick Gold (ABX) has gone against the trend with a reduction in its per share dividend to $0.12 from $0.20 last year, although it is paying more frequently so the next effect was a modest 10% increase to an annualized rate of $0.44 per share. It remains to be seen what it will do this year, but it should also be noted that Barrick pays out much more to shareholders in absolute terms than any other producer.
The other South African gold miners have also been afflicted with the lumpy dividend payments seen from AngloGold. Gold Fields (GFI) tries to pay around $0.07 per share biannually, but it has fluctuated significantly. Peer producer Harmony Gold (HMY) paid out around $0.065 per share for financial year 2010, and seems unlikely to offer much in the way of increases as it continues to go through a restructuring.
Newcrest Mining (NCMGY.PK) has been growing its dividend flows to investors which has undoubtedly helped it to become more competitive. Early last year the company announced its first ever interim dividend, effectively doubling the payout to shareholders.
Kinross Gold (KGC) pays a semi-annual dividend, but there was no increase in 2010. The annual rate is $0.10 per share.
Randgold (GOLD) pays the least dividends in absolute terms. No announcement has been made for its 2011 dividend, but it may not rise because of the company's cash flow needs as it builds Kibali and other projects.
Disclosure: I have no positions in any stocks mentioned, and no plans to initiate any positions within the next 72 hours.
The original article is published at http://www.c2ads.net/full-text-rss/makefulltextfeed.php?url=http://seekingalpha.com/sector/gold-precious.xml&format=rss&submit=Create+Feed
Looking for a precious metals provider that sells gold coins and bullion (including junk silver)? Click here to visit our favorite provider (FREE SHIPPING!).