After registering an average 67.4% return on client accounts in 2010, we would like to reflect and re-evaluate our views regarding precious metals, and silver in particular, in light of the pullback to begin 2011. After ending 2010 at 30.94, silver prices have pulled back 8.5% in just 2 weeks, ending today's trading at 28.32. While this correction has been sudden and severe, we continue to be bullish on the white metal as a long-term holding.Staggering Margin Requirements
In spite of its recent correction, silver is maintaining its elevated prices even in the face of much higher margin requirements than any other metal. Because of the recent run-up in silver, the CME has raised margin requirements on silver futures. This occurred as recently as November 9, causing a huge rally that day in silver futures to turn to a large loss. The margin increase leaves silver futures as the least leveraged metal futures contract. Despite having a margin requirement that is 65% higher than gold, silver vastly outperformed gold last year.
Silver's ascent in the face of rising margin requirements as compared to all other precious metals indicates the huge investor and industrial demand for the metal, as well as its currents scarcity.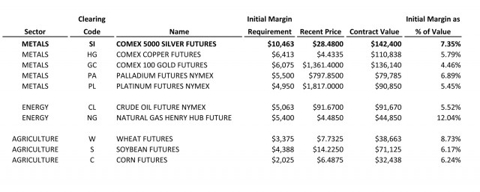 Return of Silver Managed Money Longs?
The chart below shows the consolidation of silver prices over the past six weeks.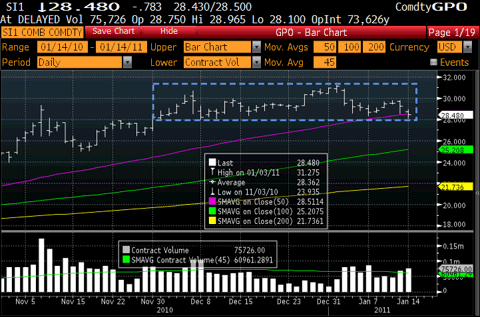 As can be seen, silver has been stuck in a range between 28 and 31 from December 1st onwards. While the recent pullback has been severe, silver has shown no signs of a downside breakout. In fact, the longer silver stays in this tight range, the longer Managed Money longs will have to return to the market and fuel a renewed rally. The chart shown below illustrates the lack of participation in silver's rally by Managed Money (hedge funds, commodity funds, pensions and other large investors).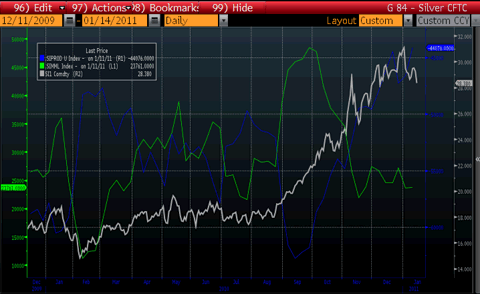 With the price of silver in white, net long positions of Managed Money in green, and net short positions of Producers in blue, we see the Managed Money long position has been more than cut in half since reaching a high of over 48,000 contracts in September. Even with silver continuing to rally, Managed Money has not returned to the silver market, with net long participation appearing to scrape along the bottom since mid-November. As we have opined in the past, the longer silver remains at these elevated price levels, the more confidence Managed Money will have that silver's ascent was not a flash in the pan and they will gradually return to the long side of the trade. To return to the September highs of Managed Money participation, Managed Money would have to increase their net long exposure by more than 100%, or about 25,000 contracts. Considering the total open interest in the silver market is about 136,000 contracts, such an increase in net longs would cause a substantial rally in silver.
Also interesting is that the bulk of silver's ascent corresponds almost in lockstep with the reduction in net short exposure in the Producer category. As we have discussed before, the Producer short position is most likely dominated by bank proprietary traders. The continued short covering by these proprietary traders is another factor that could cause a renewed and sustained rally in silver.
Recommendation
We continue to be long silver, gold, and platinum group metals through various futures, equity and option contracts. We will continue to add on pullbacks.
Disclosure: I am long GLD, SLV, SLW, GDX, GDXJ.
Additional disclosure: long gold futures, long silver futures
The original article is published at http://www.c2ads.net/full-text-rss/makefulltextfeed.php?url=http://seekingalpha.com/sector/gold-precious.xml&format=rss&submit=Create+Feed
Looking for a precious metals provider that sells gold coins and bullion (including junk silver)? Click here to visit our favorite provider (FREE SHIPPING!).