2010 was a kind year to mining companies as the prices for their main outputs soared, outpacing gains for the overall market. However, as the calendar turned to 2011 investors began to quickly abandon their bets on the precious metal industry leading to a huge sell-off in a number of key mining names. This trend was especially pronounced in the the silver market where the white metal led on the upside but also was one of the biggest decliners to start the year.
However, the silver market has managed to balance out over the last few weeks posting strong gains thanks to rising inflation fears as well as geopolitical concerns across much of the Middle East. Thanks to this uncertainty, investors in the sector should be paying especially close attention to one of the key companies in the industry, Pan American Silver Corp (PAAS).
PAAS, the Vancouver, Canada-based silver mining giant was scheduled to report its Q4 results after the bell on Tuesday and it also looks to host a conference call during market hours today to discuss the results. Although results were not disclosed at the time of writing, analysts expect the company to post earnings of 46 cents a share, a 15 cent increase from the year ago period, reflecting the rapid increase in the price of silver since the company reported its Q4 2009 numbers.
Thanks to this key earnings report from one of the biggest pure silver miners in the world, we have decided to make the Global X Silver Miners ETF (SIL) today's ETF to watch. The fund tracks the Solactive Global Silver Miners Index which is designed to reflect the performance of the silver mining industry. It is comprised of common stocks, ADRs and GDRs of selected companies globally that are actively engaged in some aspect of the silver mining industry such as silver mining, refining or exploration.
In addition to its 10% weighting in PAAS, the fund also gives high weightings to Industrias Pensoles SAB, Silver Wheaton, and Fresnillio, three other companies that make up at least 10% of SIL's total assets. Over the past 52 weeks, SIL has surged by a remarkable 65.7% including a 64% gain over the past half year period. However, the fund has lost close to 10% in 2011 but it has posted a solid February, gaining 8.1% back in just two weeks. Should PAAS deliver with solid results and an optimistic outlook, the February run could easily continue into this week as well. If, however, PAAS is unable to match Street expectations, the Canadian company– as well as the broad silver mining industry– could see a quick return to the January 2011 environment in which precious metal miners were under significant pressure.
click to enlarge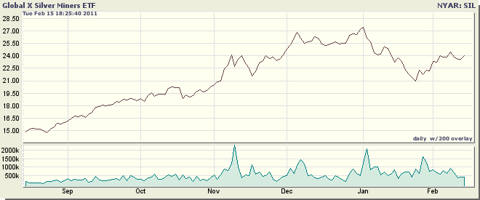 Disclosure: The author is long silver bullion.
Disclaimer: ETF Database is not an investment advisor, and any content published by ETF Database does not constitute individual investment advice. The opinions offered herein are not personalized recommendations to buy, sell or hold securities. From time to time, issuers of exchange-traded products mentioned herein may place paid advertisements with ETF Database. All content on ETF Database is produced independently of any advertising relationships.
The original article is published at http://www.c2ads.net/full-text-rss/makefulltextfeed.php?url=http://seekingalpha.com/sector/gold-precious.xml&format=rss&submit=Create+Feed
Looking for a precious metals provider that sells gold coins and bullion (including junk silver)? Click here to visit our favorite provider (FREE SHIPPING!).