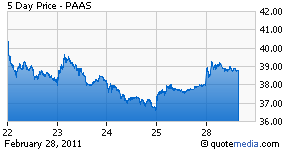 Pan American Silver's (PAAS) goal is to be the largest low-cost primary silver mining company in the world. Historically, silver is mined as a byproduct of other metals but Pan American has been founded on developing primary silver deposits in North and South America.
During the fourth quarter of 2010 silver production reached 5.7 million ounces and totaled 24.3 million ounces for the year.
Net income increased to $112 million or $1.05 per share in 2010, from $62 million or $0.71 per share in 2009, while sales increased by 39% to $632 million in 2010 from $455 million in 2009.
For the full year, cash costs, net of by-products rose by 3% to $5.69 an ounce of silver but below full year guidance of $5.90 per ounce. Fourth quarter cash costs, net of byproducts, were $6.61 per ounce.
A cash dividend of .025 was instituted in the second quarter of 2010 with $0.075 paid during 2010.
Cash and short-term investments increased to $360 million and the company is debt-free.
Pan American is currently working toward earning a 55% interest in the La Preciosa JV with Orko Silver by developing the project through feasibility into production and operation. La Preciosa holds 135 million Measured, Indicated and Inferred (MII) ounces of silver near the company's office in Durango, Mexico. The Primary Assessment has been delayed to the second quarter of 2011 due to the rise in the price of gold and silver so that alternate development scenarios can be considered.
A second major development project is the Navidad project located in the Chubut region of Argentina. According to a resource estimate prepared in February 2010, the Navidad project holds 751 million ounces of silver and 3,494 million pounds of lead, with both figures being MII. The project is comprised of three separate deposits located over a 6 x 4 kilometer range with a new resource estimate expected in the second quarter of 2011. The expected capital costs will be $760 million USD, not including $133 million in recoverable VAT, with a 17 year mine life and an expected cost of approximately $6/oz after byproduct credits for lead and copper.
A significant obstacle is that the project is expected to use open pit mining, which is currently outlawed in the Chubut region. However, the local population and government is beginning to see the potential benefits of open pit mining and after the provincial and federal elections later this year in Argentina it is expected that the mining law will be revisited.
Dilution risk may cause an overhang in the stock until the value of the Navidad project can be unlocked through a change in Argentinean mine legislation and it becomes more clear how Pan American intends on funding the Navidad buildout.
For 2011, PAAS is forecasting silver production in the range of 23-24 million ounces, a decrease of 3% from 2010, due to declining ore grades at Alamo Dorado and Quirvilca not being fully compensated by gains at the company's other mines.
By-product production will be mixed as increases in lead and zinc are expected to offset partially offset declines in gold.
Cost estimates for 2011 are in the $7-7.50 per ounce range with increased royalty rates and higher concentrate treatment charges causing most of the increase. PAAS is assuming lower by-product prices so any increase in lead and zinc prices may make a larger than expected dent in the cost estimates as lower gold production will be partially offset by high prices.
In summary, 2010 was a stellar year for Pan American and there is a very good chance that Pan American comes in above guidance with respect to quarterly earnings due to conservative forecasts. However, the upside is limited due to flat production guidance for 2011 and uncertainty over the Navidad project. Investors looking for a silver stock may want to wait until some of the uncertainty clears.
Disclaimer: Communications are intended solely for informational purposes. Statements made should not be construed as an endorsement, either expressed or implied. This article and the author is not responsible for typographic errors or other inaccuracies in the content. This article may not be reproduced without credit or permission from the author. We believe the information contained herein to be accurate and reliable. However, errors may occasionally occur. Therefore, all information and materials are provided "as is" without any warranty of any kind. Past results are not indicative of future results.
Past results are not indicative of future results. There is risk of loss as well as the opportunity for gain when investing in the stock, bond, and derivative markets. When considering any type of investment, including hedge funds, you should consider various risks including the fact that some products: often engage in leveraging and other speculative investment practices that may increase the risk of investment loss, can be illiquid, are not required to provide periodic pricing or valuation information to investors, may involve complex tax structures and delays in distributing important tax information, are not subject to the same regulatory requirements as mutual funds, often charge high fees, and in many cases the underlying investments are not transparent and are known only to the investment manager.
Before making any type of investment, one should consult with an investment professional to consider whether the investment is appropriate for the individuals risk profile. This is not intended to be investment advice or a solicitation to purchase any of the securities listed here. I will not be held liable or responsible for any losses or damages, monetary or otherwise that result from the content of this article.
Disclosure: I have no positions in any stocks mentioned, and no plans to initiate any positions within the next 72 hours.
The original article is published at http://www.c2ads.net/full-text-rss/makefulltextfeed.php?url=http://seekingalpha.com/sector/gold-precious.xml&format=rss&submit=Create+Feed
Looking for a precious metals provider that sells gold coins and bullion (including junk silver)? Click here to visit our favorite provider (FREE SHIPPING!).