By Richard Bloch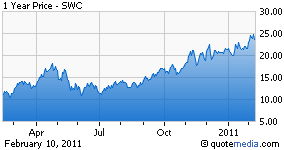 In a recent article on palladium, Sean Daly pointed to the American Eagle Palladium Coin Act (passed by Congress and signed by the president) as one reason why demand for the metal could increase.
This bill, the love-child of Montana Rep. Dennis Rehberg, authorizes "the production of palladium bullion coins to provide affordable opportunities for investments in precious metals, and for other purposes."
Presumably, Montana-based Stillwater Mining (SWC) would benefit because the U.S. Mint would be obligated to purchase palladium from "natural deposits in the United States." Stillwater happens to be the only palladium miner in the country.
But what the bill (HR 6166) really calls for, at least initially, is a "marketing study." According to the bill, this requires:
An analysis of the market for palladium bullion investments conducted by a reputable, independent third party that demonstrates that there would be adequate demand for palladium bullion coins produced by the United States Mint to ensure that such coins could be minted and issued at no net cost to taxpayers.
That should only take a couple of months, right? Yeah, maybe in the private sector, but this is the US government we're talking about. It could take a couple of years.
Predicting market demand for palladium coins
Sean points out that a new U.S. coin "will essentially democratize palladium buying. Now grandma can buy it for the kids."
But if this marketing study focuses on potential demand in the "grandma" market, I think questions regarding the purchase of palladium bullion could get answers such as, "Palladium? I saw a show there once," or "Bouillon? I prefer beef."
In all seriousness, however, I do suspect palladium isn't nearly as familiar to the public as platinum.
There could certainly be demand from knowledgeable investors, but I predict even among this group, the demand for palladium coins might not exceed the demand for platinum coins. With that in mind, here's a look at the U.S. Mint's production of American Platinum Eagle coins since they started producing them.
The difference between the number of coins and the number of ounces minted, is that the Mint has produced both one ounce coins and fractional sizes (1/2 oz, 1/4 oz, etc.)
Another clue to predicting demand for palladium coins lies north of the border. The Royal Canadian Mint has produced one ounce Palladium Maple Leaf coins, but production figures don't seem exceptionally high:
We'll have to wait for the results of the marketing study (maybe a long wait), but I just don't see how the demand for these coins – at least initially – could exceed 40,000 or 50,000 ounces. What might drive demand is if the U.S. Mint produced fractional sizes of palladium coins. (The Royal Canadian Mint only produced the one-ounce coins).
Considering that Stillwater's palladium sales totaled about 458,000 ounces in 2009 – and has sold about 360,000 ounces in the first nine months of this year (some of that from recycling, not mining), even a 40,000 ounce order from the U.S. Mint could conceivably be good for Stillwater.
But if you're a Stillwater shareholder, do you really care where the additional marginal demand for palladium comes from? If Stillwater has the palladium to spare and there is demand for coins, why wouldn't the company sell to some other mint – or just market their own?
Well it turns out that the Stillwater has done just that. The Northwest Territorial Mint produced such coins (called "rounds") several years ago.
I suppose that a coin from U.S. Mint could command a premium over a privately minted product. It could even raise the overall price of the metal, but in my view only if palladium coins become extremely popular.
If the U.S. Mint can make some money selling palladium coins, I say go for it. I just don't think potential demand from the "grandmas" of the world will make all that much of a difference to Stillwater's bottom line – at least not soon.
Disclaimer: Content, including research, tools and securities symbols, is for educational and informational purposes and should not be intended as a recommendation or solicitation to engage in any particular securities transaction or investment strategy. You alone are responsible for evaluating which securities and strategies better suit your financial situation and goals, risk profile, etc. The projections regarding the probability of investment outcomes are hypothetical and not guaranteed for accuracy or completeness. They do not reflect actual investment outcomes and are not guarantees of future results, and do not take into consideration commissions, margin interest and other costs that will impact investment outcomes. Content may be out of date or time-sensitive, and is subject to change or removal without notice. Supporting documentation for any claims made in this post will be supplied upon your email request to editor@zecco.com.
The original article is published at http://www.c2ads.net/full-text-rss/makefulltextfeed.php?url=http://seekingalpha.com/sector/gold-precious.xml&format=rss&submit=Create+Feed
Looking for a precious metals provider that sells gold coins and bullion (including junk silver)? Click here to visit our favorite provider (FREE SHIPPING!).