What's up with gold and silver? The precious metals have fallen off a cliff over the past few days.
In order to preserve profits, I recently recommended that Small Cap Investor PRO subscribers sell half of their initial investment in one of our junior silver mining recommendations.
Of course, we love to take gains – and the 62 percent profit on half of the position means quite a few shares of fresh opportunities can be purchased for essentially zero risk.
So my message today is really about new opportunities, not just preserving current gains.
I think we'll see a fresh opportunity to buy silver and gold mining stocks over the coming weeks. The evidence is fairly compelling that the drop in gold and silver prices is nothing more than a pull-back in a long bull market run.
Let me explain by discussing silver first.
The drop in the price of silver shouldn't come as a big surprise. Silver has been on a heck of a run. I won't go into all the political or fundamental reasons why silver could have pulled back today – because there's one big trend that I believe is more important.
Check out the 10-year chart of silver below and you'll see that in almost every year for the past 10 years the low price for silver occurred in the beginning of the year. The exception was 2008, and we all know what happened in that crazy year.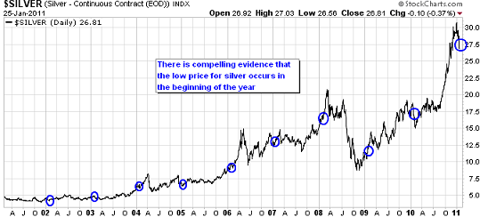 (Click to enlarge)
I remain bullish on silver, and consider the bull-run to still be intact. Now is the time to be watching your list of compelling silver mining investments, and getting ready to start accumulate shares.
The pattern for gold is not much different from that of silver. In fact, according to the gold miners bullish percent index, we are approaching the annual bearish extreme for gold mining companies. This index indicates that gold miners are overbought when the index is over 80, and oversold when the index is below 30. It is at 40 right now, after plummeting from 90 in November of 2010.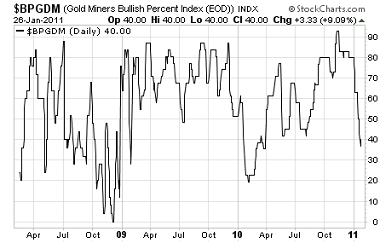 Looking at a ten year chart of gold prices, there is compelling evidence that gold hits an annual low in the beginning of the year.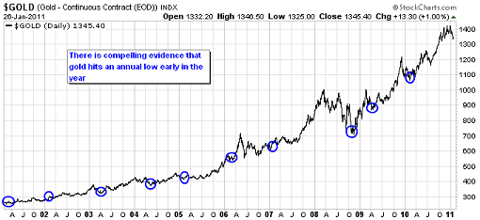 (Click to enlarge)
There is no guarantee that silver and gold prices will again hit their annual lows in the beginning of 2011. One thing about markets is that they tend to reverse predictable patterns. But until that pattern breaks, I see little reason why investors wouldn't put themselves in position to profit if the pattern holds.
If you're bullish on gold and silver prices, it appears from the information we have available that the best time to be buying gold and silver securities is in the early part of the first quarter. If you're not buying now, when will you?
Get your list of gold and silver mining companies ready. And be prepared to start accumulating shares on weakness. I always recommend dollar cost averaging (both when buying, and when selling) to spread out the risk of your purchases.
Disclosure: No positions
The original article is published at http://www.c2ads.net/full-text-rss/makefulltextfeed.php?url=http://seekingalpha.com/sector/gold-precious.xml&format=rss&submit=Create+Feed
Looking for a precious metals provider that sells gold coins and bullion (including junk silver)? Click here to visit our favorite provider (FREE SHIPPING!).