By Brad Zigler
Despite the weakness in junior gold mining stocks, it's been a pretty good week for holders of U.S. Gold Corp. (NYSE: UXG) shares.
Exploration and development (E&D) companies like UXG have been struggling to regain their footing after stumbling at the 2010 year-end.
On Feb. 28, we reported on corporate insiders' purchases of the Toronto-based exploration outfit's shares: "Insiders Buy A Gold Junior. Should You?".
Since then, the company's stock price has climbed 7 percent, while the value of the Market Vectors Junior Gold Miners ETF (NYSE Arca: GDXJ)—of which UXG is a component—has dipped 1.5 percent.
There should be yet more public interest in UXG shares now that the company reported encouraging drill results at its Mexican El Gallo site. The company released a report on Wednesday, announcing expansion in the area and mineralization of the El Gallo veins.
Unlike the rest of the gold miners' sector, UXG's share price is in the black for 2011. The Gold Miners Risk Ratio—that is, the price of the GDXJ portfolio's shares divided by that of the Market Vectors Gold Miners ETF (NYSE Arca: GDX)—has slumped from its 2010 peak after a nearly yearlong tear to the upside. The higher the ratio, the more risk investors are willing to take in their gold allocations. Among investors, risk is "off" now.
Gold Miners Risk Ratio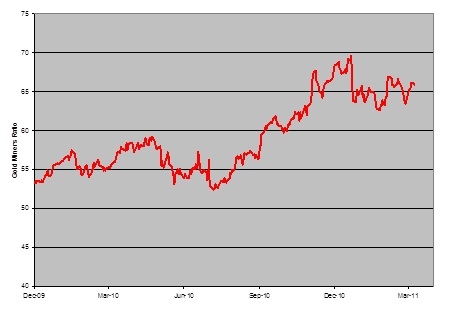 UXG is one of the exceptions. While other juniors may be struggling, UXG seems to have a solid core of believers among its shareholder ranks – most notably, its officers.
The original article is published at http://seekingalpha.com
Looking for a precious metals provider that sells gold coins and bullion (including junk silver)? Click here to visit our favorite provider (FREE SHIPPING!).