Ananthan Thangavel is founder and managing director of Lakshmi Capital, a Beverly Hills, Calif-based wealth management firm focused on absolute return and specializing in alternative asset management.
If you could only hold one stock position in your portfolio (long or short), what would it be?
We would hold a long position in Silver Wheaton Corp. (SLW).
Tell us more about the company behind the stock.
Silver Wheaton is a silver royalty trust. What this means is that the company has signed long-term contracts with miners to buy silver (and a small amount of gold) from them at fixed prices, but they themselves do not mine any silver. The average cash cost that Silver Wheaton paid for silver last quarter was $4.09 per ounce, and the average cost SLW paid for the nine months ending Sept. 30 was $4.05 per ounce. With silver trading just under $27/ounce right now, it is obvious that the company is making quite a bit of money.
SLW is an unhedged silver royalty company, meaning they do not lock in the price at which they sell silver. Since they sell silver at the prevailing spot price, SLW is a great leveraged play on silver prices. The amount that SLW's earnings increase as silver prices increase is unlimited. Earnings growth for Q3 2010 was 82% year-on-year, much of which was due to the increase in the price of silver. However, with silver rising 29.46% from Sept. 30, 2009 to Sept. 30, 2010, SLW's earnings are clearly outperforming silver, as their low fixed production cost provides a high degree of leverage to silver prices.
The best part for Silver Wheaton is that the amount of silver the company is entitled to (attributable production) is expected to increase significantly. Attributable production increased 41% from the same quarter a year earlier due to new mines coming on line and increased production at existing mines, but even higher production levels are on the way. Factoring in an estimate for the last quarter, 2010 attributable production is expected to be around 23.5 million ounces of silver. By 2013, that figure is expected to increase to 40 million, or up roughly 74%. Even if silver prices stay the same, the increase in attributable production will account for a corresponding large increase in earnings, as revenues increase by 74% but costs stay largely the same.
When factoring in the possibility of an increase in silver prices, the data starts to look very good for Silver Wheaton. As I've written many times here on Seeking Alpha, I expect a sustained bull market in precious metals prices, especially silver. From a broad fundamental standpoint, competitive currency debasement among the major currency economies (U.S., U.K., Japan, eurozone) due to lack of organic GDP growth continues to bid up hard asset prices. Precious metals, agricultural, and energy commodities have all reflected a significant coming inflation. However, the Consumer Price Index has not yet reflected these fears.
Commodities prices are up, so why hasn't inflation become a serious issue?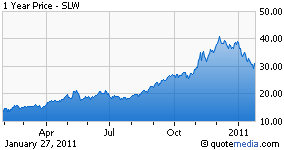 The reason why inflation has not yet become a problem is because the velocity of money, or pace at which money is moving through the economy, is still very slow. To make this a little more real and a little less classroom, think about all the cash that the Fed has printed. Next, think about where it has gone, which is to shore up banks' balance sheets in exchange for the toxic, worthless mortgage-backed securities they held. The problem is, the banks have not turned around and started to lend that money. Because they are still so spooked about all the bad loans they gave out during the financial crisis, they have been hoarding this cash and have not relaxed their lofty lending standards.
As the banks begin to gain confidence in an economic recovery and start to lend money again, all that cash that the Fed created out of thin air during the financial crisis will begin to make its way into the economy. Then, we will finally see true inflation as measured in the CPI and felt in the streets.
So to what extent are those gains accounted for?
Even with all these positive catalysts for SLW, we need to consider its valuation to see if we are already paying for all this good news. Using its trailing 12-month earnings, SLW trades at a 46.4 P/E, not exactly cheap. However, the average price of silver over the next 12 months figures to be quite a bit higher than the last year. Combining this increase in average price with increased attributable production shows SLW at a forward P/E of 21.5, using analysts' estimates over the next four quarters. If silver prices outperform analysts' assumptions (which we think is a very real possibility), there could be quite a bit of upside to earnings predictions.
Paying 21.5 times earnings for a high-growth stock in an environment where the 10-year Treasury yields 3.35% is not incredibly cheap, but certainly not expensive. When one factors in the likelihood of higher precious metals prices, the upside to SLW's share price could be very significant. We would not be surprised to see the shares hit $50 over the next 12-18 months, and will most likely wait for this elevated share price to exit this investment.
How does your choice of SLW reflect your firm's investment approach?
SLW is a large holding in our global macroeconomic portfolio. Our firm employs two strategies in each client account, an income portfolio and a global macroeconomic portfolio. Since our global macro portfolio frequently involves the sale of option contracts against collateral, we employ the income portfolio as collateral against the global macro portfolio. In this manner, we can generate yield on our collateral instead of earning zero percent as it sits in cash. We employed these strategies to generate an average return of 67% net of fees in 2010.
In keeping with our strategy, we hold shares of SLW outright, but we also hold short put option contracts. Since SLW tends to be even more volatile than the price of silver (which has been extremely volatile lately), the options underlying SLW are extremely expensive. The historical volatility of SLW stock is 45.88% while the implied volatility is around 50%. Historically, when implied volatility is higher than historical, it is profitable to be a net option seller.
Our trade would be to sell the 22.5 puts for January 2012 for $2.60. By selling these put options, the trader collects the full $2.60 premium paid if SLW is above $22.50 on Jan. 20, 2012. If SLW is below $22.50, the trader must purchase the stock. However, with SLW currently trading at $29.51 even given the deep correction witnessed by silver so far this year, we view this as a highly unlikely scenario. Even if the puts are sold on a cash-covered basis, the trader is making an 11.56% yield over the next 12 months ($2.60 premium collected, divided by $22.50 strike price).
This type of net option sale trade is typical of our global macro portfolio. By selling these option contracts against stable, income-producing preferred stocks, common stocks, and bonds, we have generated outsized returns.
How much is your selection based on SLW's industry, as opposed to a pure bottom-up pick?
As I discussed before, much of our positive view of SLW is based on our macroeconomic opinion that inflation will be a growing concern, providing support to precious metals prices. However, we believe in the fundamentals of SLW in addition to its position as a leveraged play on silver.
Because SLW does not actually mine silver, it poses no execution risk, or risk that the company does not profitably produce silver or management does not manage assets properly. The main attraction of metals miners is that their cash costs are usually fixed or have low sensitivity to price. SLW retains this positive attribute while assuaging the potential concern that mining is not properly executed.
We own many miners, in addition to the underlying metals of silver and gold. However, we believe that SLW presents the most compelling risk/reward characteristics at its current valuation.
How is Silver Wheaton positioned with regard to competitors?
Because SLW does not actually mine silver, their competitive position with respect to silver miners is not as important. In fact, because SLW receives their attributable production from other large mining firms, their competitors for dollars in the stock market are actually their allies. SLW is motivated to work with miners, as the more silver the miners produce, the more SLW will profit.
In terms of other royalty companies, SLW is the largest silver streaming company by far. Its main peers, Royal Gold (RGLD) and Franco-Nevada, are not nearly as focused on silver.
How does the stock's valuation compare to those peers?
Royal Gold: 55.84 P/E, 35.68 forward P/E.
Franco-Nevada: 58.12 P/E, 33.79 forward P/E.
These are two royalty companies that operate in a similar manner to SLW. As can be seen, both companies trade at a higher current and forward P/E.
Royal Gold operates in a very similar manner to Silver Wheaton, but focuses on the gold market. While we like the fundamentals of the gold market, gold is a lower "beta" investment and will have less upside than silver in a rising precious-metal environment. The lower percentage gain potential in the gold market makes Royal Gold a less promising prospect than Silver Wheaton, yet it also trades at a more expensive multiple.
Franco-Nevada has diversified into oil and gas properties in addition to base metals. They also trade at a higher valuation than Silver Wheaton.
Due to these two companies' lack of focus on silver and higher overall valuations, we consider SLW to be a better investment.
Does your view differ from the consensus sentiment on SLW?
As precious metals have gone through a significant correction to begin the year, the consensus view on the stock is tough to gauge. Sell-side analysts continue to love the stock, listing its average target price at $43.40. [SLW closed today at $30.05.] However, the stock has sold off 25% to begin the year, more than twice the decline in silver itself. Additionally, the implied volatility on put options on SLW is extremely high, meaning investors are willing to pay a high premium for insurance in case SLW's stock continues to fall.
Considering the pullback in precious metals and the implied volatility of SLW's options, the current sentiment towards SLW seems to be neutral to bearish. Our call to buy SLW and sell puts on the name would be considered somewhat of a contrarian play in the short term.
Silver was up 83% in the past year, so looking at the pullback, you think SLW may have bottomed out before the metal does?
That is correct. We think that SLW's extremely low cash costs along with rapidly increasing attributable production would afford it a degree of protection against corrections in the price of silver. On an intraday and weekly basis, SLW will be very sensitive to changes in the price of silver, but we view that added volatility as an opportunity to get in at a more attractive price if you are a long-term investor.
Does the company's management play a role in your selection?
While we believe in management's acumen, Silver Wheaton's business is a fairly simple one that does not require a large amount of active management. That being said, SLW's management has formed key relationships to power its business. SLW's Chairman, Douglas Holtby, is the Vice Chairman on Goldcorp's (GG) board, one of the miners that Silver Wheaton purchases silver from. In fact, much of SLW's top management has experience working at Goldcorp prior to their involvement with Silver Wheaton. SLW management's experience working with gold miners allows them to maintain the business relationships they need to be successful.
Additionally, SLW's CEO holds $10 million worth of Silver Wheaton stock, properly incentivizing him to maximize shareholder value.
What catalysts, near-term or long-term, could move the stock significantly?
The catalyst for SLW is clear: silver prices. If silver prices rise or stay the same, SLW's stock is undervalued. If silver prices fall, SLW's earnings will have a significant cushion due to their extremely low fixed costs of attributable production. With the U.S. government printing money like it's going out of fashion, our bet is that silver continues to outperform on a long-term basis and SLW should take off with it.
What could go wrong with your pick?
If the economy re-enters recession and/or deflation, silver prices could take an extended hit. Because of the industrial uses of silver, decreased global industrial output combined with a flight from precious metals as an inflation hedge could cause silver prices to plummet and SLW's stock to crater. However, after bearing witness to the extent that Bernanke and other central bankers will go to prevent deflation, we believe that the risk continues to lie on the side of central bankers overshooting inflation targets and triggering higher-than-expected CPI increases rather than deflation.
Similarly, any extended period of stagnating precious metals prices could cause investors to not be willing to pay a high multiple for SLW's shares. It is clear that the primary risk factor as well as catalyst for SLW's stock remains silver prices. We believe that if a patient investor can withstand the high volatility of silver and SLW, large gains could be in store.
You don't think of precious-metal trading as fear trading – it's all about the money supply and expected inflation, correct?
Exactly. We recently wrote an article highlighting this point. While gold has at times been thought of as an asset of last resort, rising with uncertainty in other asset classes due to socioeconomic turmoil, wars, etc., our research shows that the primary drivers of gold and silver are inflation expectations. Since precious metals cannot simply be printed on the whims of a central banker, they tend to retain their purchasing power much more effectively than fiat currency.
Thanks, Ananthan, for sharing your thesis with us here.
Disclosure: Long SLW.
Read more Just One Stock interviews »
If you are a fund manager and interested in doing an interview with us on just one stock or ETF position you'd hold, please email us at Just One Stock.
The original article is published at http://www.c2ads.net/full-text-rss/makefulltextfeed.php?url=http://seekingalpha.com/sector/gold-precious.xml&format=rss&submit=Create+Feed
Looking for a precious metals provider that sells gold coins and bullion (including junk silver)? Click here to visit our favorite provider (FREE SHIPPING!).