Gammon Gold is well on its way to becoming one of the premier gold mining companies in Mexico, especially after Capital Gold (CGC) in 2010 signed a definitive agreement to be acquired by Gammon. Not only does this winning combination provide Gammon with immediate production in both gold and some silver but also augments Gammon's long-term growth profile in addition to increasing 2p reserves rather sharply.
Capital Gold Highlights
The El Chanate mine alone will add an additional 50,000 ounces on top of the 70,000 it is currently producing by 2013 between 2 mines. 2P reserves will increase by approximately 1.5m ounces excluding the Orion Project.
Other than growth produced via the El Chanate mine courtesy of the acquisition of Capital Gold (which added 130k in M&I GEO in the last 6 months), Gammon will also reap the benefits from Capital Gold's Orion Project (total resources of 360k gold equivalent ounces). The Orion project's assessment will add approximately 50,000 – 60,000 ounces of GEO in 2013 (depending on spot silver). Though early in its life cycle it has demonstrated that it possesses high grade ore and contains over 11m ounces of M&I silver ( with an additional 550k of inferred resources) and 130k of M&I gold, for a total of 360k GEO in total resources.
Due to the silver bi-products at both mines, the addition of capital gold will fit in perfectly with Gammon's lost cost profile. The combination of these two mines provides great potential exploration upside as well as a possibly increasing mill throughput as the combined companies will have a very strong balance sheet. Though the deal between Gammon and Capital Gold has yet to close, it looks as if it will in the near future. Capital Gold has rejected a competing bid from Timmins Gold Corp (TMGOF.PK) as shareholders see Gammon as a better way to add shareholder value. In addition to the immediate production growth from El Chanate and medium term growth from the Orion project, Capital Gold also includes the earlier stage Saric Property, providing production growth across the board.
Organic Growth Potential
Ocampo and El Cubo Gold-Silver Mines – Gammon continues to increase mill throughput, adding to annual production capacity, lowering cash costs and therefore increasing the total internal rate of return on the Ocampo project. This was seen throughout 2010 as it increased gold production in Q4 to nearly 30k ounces of gold and 1.2m ounces of silver – up from 21.9 ounces of gold and 961k ounces of silver in Q1 2010. Net of bi-products (silver) cash costs reached $-390/oz in Q4, down from $8 per gold ounce in Q1. This is a function of the increasing underground development capacity at El Cubo as well as higher silver output and higher silver prices (80% in 2010).
Gammon also acquired additional land, allowing for more significant exploration potential as new discoveries have already been identified. Underground drilling has resulted in identifying Santa Eduviges, adding 45k GEO while Belen/Santa Julian has added new reserves of just over 50k ounces of GEO. Surface drilling has added new reserves from Los Molinos of 32k GEO.
Guadalupe y Calvo – Over 54k of GEO of Inferred resources has been identified thus far, with an expanded drilling program of 25,000m.
The New Gammon
Gold equivalent reserves double from 1.5m ounces to just over 3m ounces.

Total GEO resources will increase from 4.5m ounces to over 6.3m ounces.

2010 production would have been 175k GEO up from 115k from Gammon alone.

Based on current spot prices 2010 gold revenue would be approximately 55% and 45% from silver, making it a dynamic hybrid precious metal producer.

2011 Production projected to be 270,000+ gold equivalent ounces using $30 silver, increasing to 280,000+ in 2012 w/ $30 silver. Using $35 silver, Gammon Gold will then produce 340,000 gold equivalent ounces by 2013.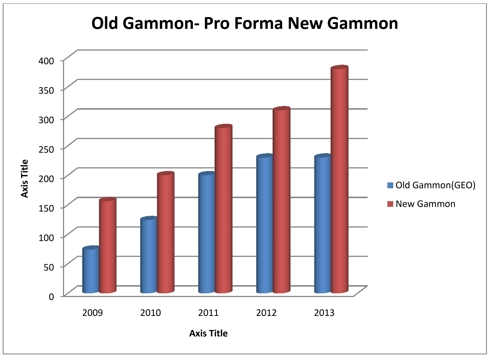 Valuation – At current spot prices, using a blended valuation, Gammon should be trading much higher, especially given its exposure to silver and robust growth profile. As I mentioned in a previous article, Gammon is one of my top 5 gold stocks for 2011.
Disclosure: I am long GRS.
The original article is published at http://www.c2ads.net/full-text-rss/makefulltextfeed.php?url=http://seekingalpha.com/sector/gold-precious.xml&format=rss&submit=Create+Feed
Looking for a precious metals provider that sells gold coins and bullion (including junk silver)? Click here to visit our favorite provider (FREE SHIPPING!).