By Brad Zigler
Palladium has given traders and investors quite a ride over the past year — mostly on the long side. The launch of the ETFS Physical Palladium Shares (PALL) put a bid on the white metal's already-tight supplies last year.
Palladium prices have risen 53 percent in the last 12 months, but that counts a month-long slump that dragged prices down to the $730 level from an $862 peak. The sell-off in PALL shares started at $85 and recently ended at $72.
Last week, investors backpedaled from platinum group metals in the aftermath of the Japanese earthquake. The reason? PGMs are used in automotive pollution control devices. Fears about waning carmaker demand gripped traders when Toyota Motor Corp. (TM), Honda Motor Co. (HMC) and Suzuki Co. (SZKMY.PK) closed their homeland production plants.
However, the slump in palladium prices began long before the quake and subsequent tsunami roiled Japanese manufacturing capacity. Investors started pulling money out of PALL on Feb. 17. The negative money flow wasn't staunched until March 15.
[Click to enlarge]
PALL Share Price Vs. Money Flow Index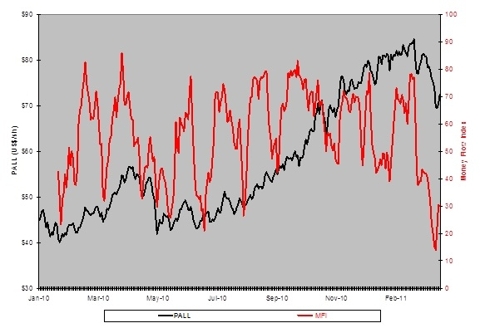 The selling of white metal became so intense that palladium was, in fact, oversold. The metal's price bounced off a critical retracement level of its July-February rally.
Now that pivot point — $682 for the metal and $68.27 for PALL — represents key support. Definitive closes under that level would put futures traders in a mood for an excursion to the $626 spot level. Failing that, bulls will try to probe through resistance at $750. For PALL investors, the levels are $63 and $75.
This morning, palladium seemed inclined to move higher — at last look by a 2 percent margin over Friday's price. Still, we haven't reached a level that confirms a bullish reversal. Neither have we broken to the downside.
It's at times like this that options would come in handy. Too bad none are available for palladium or PALL.
The original article is published at http://seekingalpha.com
Looking for a precious metals provider that sells gold coins and bullion (including junk silver)? Click here to visit our favorite provider (FREE SHIPPING!).