Real-time Monetary Inflation (last 12 months): 1.5%
Monday, we noted that money managers had pulled in their horns from the gold futures market amid a small speculator buying spree ("Little Guys Buying Gold").
Overnight, gold prices plunged in reaction to additional explosions at Japanese reactor sites. The sell-off spilled over into the U.S. morning trade. At one point, spot metal was off more than $30/oz. (2.2 percent).
The wobbliness of money managers' convictions wasn't the only signal of the gold market's weakness. There was, too, a spike in the cost of gold puts—the first real spike in weeks—indicating a pickup in hedging activity.
Gold Put Cost Vs. COMEX Spot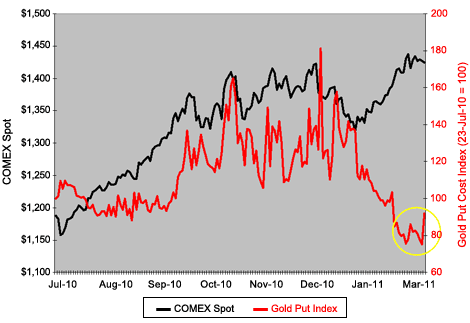 Then there was a bearish crossover in the MACD indicator.
MACD, or the moving average convergence divergence, one of the most widely used technical indicators, essentially works like noise-cancelling headphones. Watching the MACD oscillations helps a trader better identify trend changes. MACD plots two lines—a slow-moving MACD line and a faster signal line. Traders use the MACD indicator to sell a commodity when the signal line crosses over a downward-coursing MACD line from above. The current MACD crossover recalls that of Oct. 19 last year, which presaged a highly volatile three-month consolidation phase.
It's no wonder the momentum-loving fund managers lightened their long commitments. Consolidation isn't a money maker. A trend is—in either direction, up or down.
So, is today a good day to scoop a gold bargain? Maybe. Maybe not.
Better, I think, to wait for the noise to die down and look for a bottoming in the MACD indicator, like the signal that set up February's $85/oz.rally.
The original article is published at http://seekingalpha.com
Looking for a precious metals provider that sells gold coins and bullion (including junk silver)? Click here to visit our favorite provider (FREE SHIPPING!).