Real-time Monetary Inflation (last 12 months): 1.4%
Bullion ceded ground to reserve currencies this week, most especially the yen. The Japanese currency jumped 6.4 percent higher vs. gold, while the Swiss franc climbed 4.9 percent and the euro gained 2.6 percent. Sterling rose 1.3 percent.
This week, the U.S. market focused on reports of sharp price rises at the retail and wholesale levels. The Consumer Price Index climbed 2.1 percent in the past 12 months, while the Producer Price Index for Finished Goods shot up 5.6 percent. Both indexes notched their largest hikes in a year.
For other U.S. dollar-denominated assets, monetary inflation moderated:
In London, gold was fixed at $1,404, down 1.5 percent after averaging $1,409; on COMEX, spot metal settled 0.6 percent lower at $1,404; average daily volume rose 1.8 percent to 205,669 contracts; open interest slumped by 19,518 contracts to wrap up at 501,619.
COMEX inventories were drained of 72,202 gold ounces (2.3 tonnes) to end up at 11.026 million; stocks now cover 21.7 percent of open interest; immediate demand for COMEX bullion now amounts to no more than 1,300 ounces; 2.369 million ounces are in a deliverable position.
Bullion assets of the SPDR Gold Trust (GLD) ended the week unchanged at 1,217.3 tonnes.
Gold's projected volatility, tracked by the CBOE Gold Volatility Index (GVZ), ran up from 17.3 to 18.3 percent.
One-year gold lease rates inched up a basis point (0.01 percent) to average 0.31 percent.
Junior gold mining shares were marginally more volatile than established producers this week; the Market Vectors Junior Gold Miners ETF (GDXJ) lost 2.4 percent compared with the 2 percent hit taken by the Market Vectors Gold Miners ETF (GDX); the broader market was less volatile as evidenced by a 1.7 percent decline in the S&P 500 (SPY) Composite.
The blue-chip benchmark's correlation to bullion was hoisted 28 points higher to -3 percent; the coefficient linking the S&P index and GDX fell 9 points to 18 percent.
Domestic crude oil fell 1.3 percent to $101.42; the gold/oil multiple reversed course, rising from 13.7x to 14.1x.
Gold futures traders expressed their expectations for steady-to-lower rates by keeping embedded financing costs at a 30-bp discount to one-year Treasurys; the one-year COMEX contango shrank 3.3 percent, or 30 cents an ounce, to $8.90; the spread implied in the London forward market was compressed 4.7 percent.
The one-year TED spread widened by another basis point to average 0.54 percent.
A tumble in long bond rates flattened the Treasury yield curve to an average 439 basis points.
The euro gained 0.9 percent against the U.S. dollar, averaging a $1.3929 cross rate in interbank trading.
Daily readings of the Monetary Inflation Index's one-year rate averaged 1.5 percent, off a bit from last week's 1.6 percent pace; at today's rate, the real return on three-month Treasury bills is -66 basis points.
Three-Month T-Bill Yields, Adjusted For Monetary Inflation Rate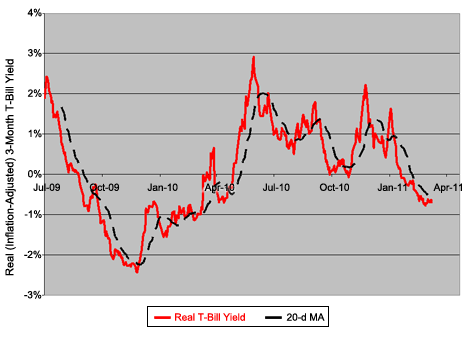 The original article is published at http://seekingalpha.com
Looking for a precious metals provider that sells gold coins and bullion (including junk silver)? Click here to visit our favorite provider (FREE SHIPPING!).