By Brad Zigler
Bullion squared off against the world's reserve currencies this week and took the round. The yen suffered most, losing 2.3 percent to gold. The euro fell 2.0 percent, while sterling slipped 1.1 percent. The Swiss franc inched 0.7 percent lower.
On the dollar front, for the week ending Thursday:
Morning gold fixes in London averaged $1,368 and finished 1.4 percent higher at $1,377; Comex spot settled at $1,385, 1.7 percent higher on the week; average daily volume fell 17.2 percent to 117,912 contracts; open interest jumped 25,812 contracts to 486,208.
Comex gold inventories declined by 144,799 ounces (4.5 tonnes) to 11.254 million; stocks now cover 23.2 percent of open interest; immediate demand for Comex bullion amounts to no more than 65,400 ounces; 2.598 million ounces are in a deliverable position.
The SPDR Gold Trust's (GLD) vault assets fell 1.5 tonnes (48,805 ounces) to 1,224 tonnes.
The average cost of protective gold puts fell another 3.0 percent, while projected volatility, measured by the CBOE Gold Volatility Index, nosed 0.2 points higher to 15.3 percent.
One-year gold lease rates ticked up 1 basis point (0.01 percent) to an average 0.30 percent.
GDX's correlation to the S&P benchmark was boosted another 4 points to 22 percent, while the blue chip index's coefficient vs. bullion slid 3 points to -20 percent.
WTI spot crude oil declined 0.5 percent to $86.26, pulling the average daily gold/oil multiple up from 15.5.x to 16.1x.
The widening discount to Treasurys in Comex financing rates reinforced market expectations of steady-to-lower yields; the one-year Comex contango fell 5.4 percent to $8.70 an ounce as the February contract neared expiration.
Interbank yield spreads reversed course to rise by a basis point reflected by a 0.50 percent reading in the one-year TED.
The Treasury yield curve flattened to 456 basis points when long bond rates slipped to a weekly average of 4.67 percent.
The euro eased 0.6 percent against the U.S. dollar to $1.3579 after averaging $1.3534 in interbank trading.
Daily readings in the Monetary Inflation Index's one-year rate averaged 0.6 percent, down from the 0.8 percent the previous week; at today's rate, the real return on three-month Treasury bills is -38 basis points.
[Click to enlarge]
Real Return (Adjusted For Monetary Inflation) On Three-Month T-Bills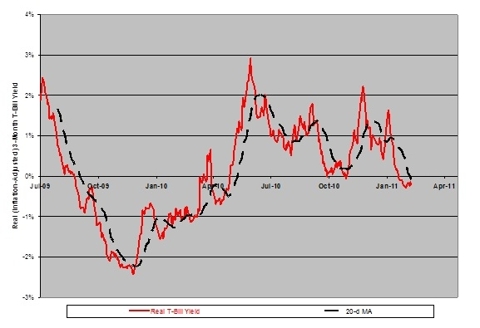 The original article is published at http://www.c2ads.net/full-text-rss/makefulltextfeed.php?url=http://seekingalpha.com/sector/gold-precious.xml&format=rss&submit=Create+Feed
Looking for a precious metals provider that sells gold coins and bullion (including junk silver)? Click here to visit our favorite provider (FREE SHIPPING!).