Silver has recovered very well since the steep precious metals correction in January. Since January 28th, silver is up 11.9% (see our historical silver coverage here). At this juncture, it is prudent to reevaluate the white metal's prospects going forward.
Precious Metal Fundamentals
The fundamentals of the silver market remain strong. Competitive currency debasement efforts are only increasing worldwide, and with the impending Euro debt crisis and US muni debt problems, more money printing is only around the corner. Our belief that silver is in a multi-year bull market is unshaken, as inflation has not yet been reflected in the CPI.
As we posited in our recent interview with Seeking Alpha, the CPI has not yet reflected inflation even though the money supply has expanded exponentially because banks are not lending. Even though the Fed has printed an insane amount of money, all that money was used to shore up banks' balance sheets in exchange for toxic mortgage-backed securities. Because there is still no real market for residential MBS other than Fannie/Freddie (government entities), banks have been strictly adhering to Fannie/Freddie guidelines, which have been tightened significantly.
The so-called "private label" loans and mortgages have all but disappeared, or are only being offered on very disadvantageous terms. All this means that the people getting loans are the ones who need it the least, and that lending is extremely tight. As confidence gains in the global economic recovery, banks will start lending again. Once this influx of money makes its way into the economy, consumer prices across the board will rise.
Another fundamental argument being made nowadays is that commodities have already priced in the coming increase in inflation, with food, energy, and industrial commodity prices already showing substantial increases. While this is true, we believe the best is yet to come in terms of the rally for commodities, because very few institutional and other wealthy investors have accepted inflation as a given.
click to enlarge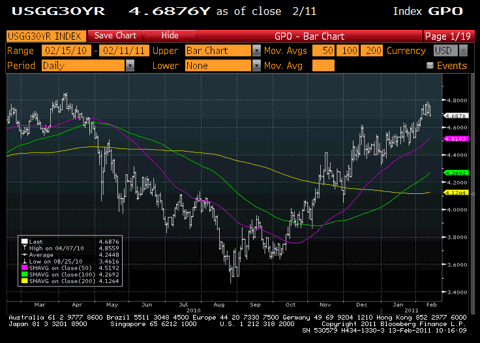 Taking a look at the 30 year treasury yield in the chart above shows that the current yield is 4.69%. To us, an investor willing to accept 4.69% a year for the next 30 years is someone who is worried about inflation. While quantitative easing has kept yields artificially low, one can see from the chart that yields have done nothing but rise since QE2 was announced. While a 120 basis point rise in yields over the last 5 months is significant, it is probably nothing compared to what we will eventually see. Fixed-income investors (who many attribute greater wisdom than equity investors) have not priced in meaningful inflation in the US. For this reason, we believe precious metals are only beginning a large ascent.
As institutional investors start to realize that inflation is inevitable and occurring, they will increase their allocations to commodities and other risk assets. While commodity prices have risen, it is important to keep in mind the size of the precious metals market versus the US treasury market. Gold currently receives a 1% allocation from institutional investors, and silver receives none. US government and corporate debt (which is priced off a spread to government debt) comprises a much greater portion.
As inflation increases, institutional investors will have no choice but to sell fixed-income investments and buy higher-yielding risk assets (i.e. stocks and commodities). Please note that higher-yielding here does not mean throwing off income, but rather higher potential for total return.
This Week's CFTC Report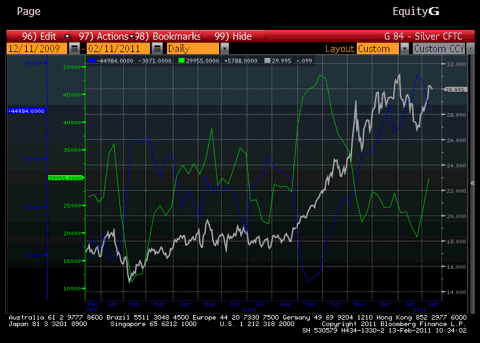 The gray line above shows the price of silver, the green line shows managed money longs, and the blue line shows producer shorts.
This week's CFTC report shows that managed money longs increased their long participation by 5,788 contracts. Over the last 2 weeks, managed money has increased their long participation by more than 10,000 contracts (a 50% increase). This is a very large increase in managed money longs, and could be a cause for short-term concern.
As we have commented repeatedly, managed money is the key to silver's rally. While they could increase longs by more than 18,000 contracts without taking out the September 28 high (48,532), managed money is notoriously fickle, and could bail at any sign of weakness, causing a pullback. That being said, we expect managed money longs to well surpass the old high at some point during this precious metals rally.
Any weakness caused by this "hot money" volatility should be considered a buying opportunity, and chance to increase exposure. Since our preferred strategy is to sell put options on silver and gold, the increased volatility caused by the rollercoaster managed money participation is welcomed, and allows us to collect greater premiums.
Also interesting is that producers have started to add to their shorts again, increasing by over 3,500 contracts in the last 2 weeks. As we opined, this producer short position is most likely comprised of commercial bank prop trading, and is an extremely large position relative to the amount of silver out there.
Trading Recommendation
We recommend short put positions in silver and gold, as well as long positions in both underlying metals. We also maintain long positions in SLW, GDX, and GDXJ, and will add on a correction.
Disclosure: I am long SLW, GDX, GDXJ. Long silver futures, long gold futures
The original article is published at http://www.c2ads.net/full-text-rss/makefulltextfeed.php?url=http://seekingalpha.com/sector/gold-precious.xml&format=rss&submit=Create+Feed
Looking for a precious metals provider that sells gold coins and bullion (including junk silver)? Click here to visit our favorite provider (FREE SHIPPING!).