By Brad Zigler
My kids have no clue about the Lone Ranger. They have no memory, as I do, of the masked man putting spurs to his steed with a hearty "Hi, Ho Silver!" to gallop down a dusty trail in pursuit of bad guys in black hats.
No matter. They have, bless their hearts, noticed another silver on the move. No doubt you have as well: Silver's run ahead of gold in the recent precious metals rally. With that, the gold/silver ratio's resumed the downward trajectory begun last September.
[Click all to enlarge]
Gold/Silver Multiple (Futures)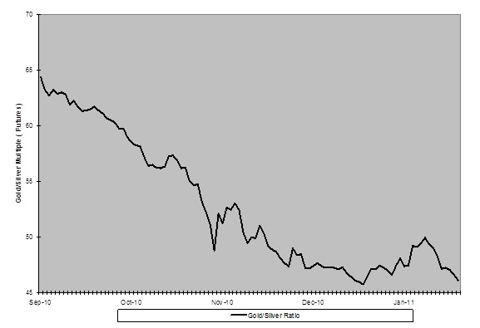 You might say silver's jumped over a little bump in the trail on the way to … to … well, some lower proportion of gold's price.
Actually, we've got a better idea of where the ratio's not going. In late September, we puzzled on the ratio's direction and projected an interim target around 50-to-1. That target was hit by November and, after dawdling some, was finally penetrated with a dip down to the 45-to-1 level at year's end.
The bump in the trail you see above was a test of the 50x multiple. You get a better sense of this if you look at a continuation chart from the September article. The old support at 50x has now become overhead resistance.
Gold/Silver Ratio (London Cash)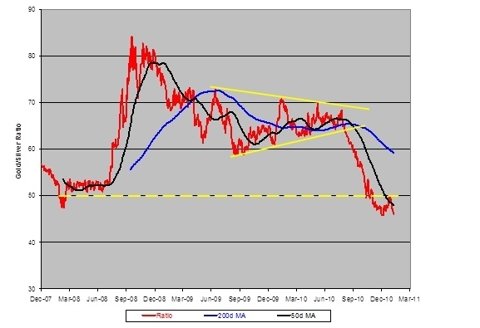 Low multiples are typically thought of as markers of a bull market in precious metals. This has got my kids — along with many other investors — wondering if the recent metals sell-off has run its course.
Well, there's one thing I learned from watching all those Lone Ranger episodes: You gotta keep viewers on the edge of their seats to get 'em to tune in to the following week's show. That said, we'll zero in on the prospects for gold and silver in future columns.
You won't have to wait a whole week, though. And, best of all, you won't have to sit through commercials for breakfast cereal.
The original article is published at http://www.c2ads.net/full-text-rss/makefulltextfeed.php?url=http://seekingalpha.com/sector/gold-precious.xml&format=rss&submit=Create+Feed
Looking for a precious metals provider that sells gold coins and bullion (including junk silver)? Click here to visit our favorite provider (FREE SHIPPING!).