One of the most difficult decisions an investor must make is to determine if a turning point is of short-term or long-term consequence. The markets give subtle clues to students of the market of impeding danger and times of caution. A stock's reaction to news may tell us the authentic underlying strength. In November and December, gold, silver and mining stocks sold off on China raising rates and now in February they shrug off the news. Is that telling us the correction may be over? A break above the 50-day moving average will bring back the previous gold run. Often times in a secular uptrend news items are planted, causing short-term shakeouts, which often in retrospect are great buying opportunities. I have learned over time it is important to look at a long-term weekly chart and review the trend. If the trend is a normal healthy linear trend then most times a correction becomes a major buying opportunity.
Click to enlarge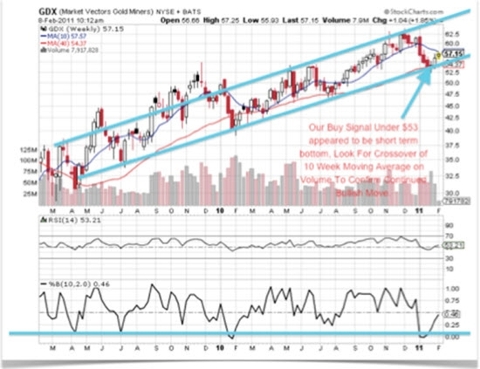 Gold miners have put in a short-term bottom under $53. A cross above the 10-week or 50-day moving average on volume could forewarn of a break into new highs. After touching support and reaching oversold levels, traders entered the secular bull trend. Mining executives and fund managers believe gold and silver are in a long-term bull market. Many of these precious metal majors are sitting on huge amounts of cash and may become the new income stocks as they increase dividends to shareholders in 2011. The large miners are undervalued relative to other sectors and may have a strong 2011 as their profit margins increase. I expect new highs for the large producers and for them to outperform.
Click to enlarge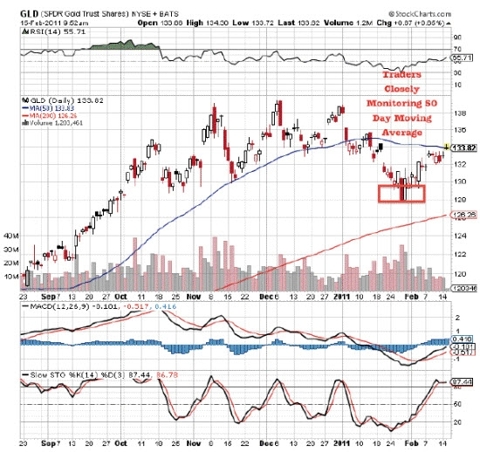 Gold has bounced at my previous buy signal under $130 and has reached a short-term overbought condition after reaching multi-year oversold levels. The first bounce after a significant correction may push stochastics into extremes and should be given less importance. I believed gold at under $130 or $1,325 spot was an ideal buy as it reached long-term support and oversold levels.
We must remember that gold is in a secular uptrend and these trends must be given strong weight when making decisions. I believe gold will reach new highs as central banks will be reluctant to raise interest rates in light of high unemployment and mounting debt fears. I expect further debt issues to resurface globally and for investors to seek out real money – gold and silver. Look for gold to hold the 50-day moving average, pushing a lot of bears who were expecting a steeper correction back into gold, causing it to reach new highs.
Using a simple set of trend channels one can assess the risk at key market turning points. For four months, while investors were chasing gold at resistance, I was writing about key sectors and stocks that doubled, especially in uranium and molybdenum. Many investors left precious metals for riskier assets in energy, rare earths and base metals. Now gold and precious metal mining stocks seem to have found support and are making a leg higher despite fears of rising rates in both the U.S. and China to combat rising prices of basic goods and commodities. Investors are realizing that interest rates won't deter this economy on steroids. President Obama does not appear to be cutting spending as our deficits soar into record territory and we may be setting ourselves up for QE3 if yields continue rising.
Disclosure: I am long GLD, GDX.
The original article is published at http://www.c2ads.net/full-text-rss/makefulltextfeed.php?url=http://seekingalpha.com/sector/gold-precious.xml&format=rss&submit=Create+Feed
Looking for a precious metals provider that sells gold coins and bullion (including junk silver)? Click here to visit our favorite provider (FREE SHIPPING!).