Yes, 2010 was a very good year. This author was able to increase his portfolio value by double digits (nearing triple digits) by concentrating on the smaller mining stocks. The spectacular performance during the fall among the precious metals and miners accounted for almost all of the gains.
Now looking forward to 2011, the author finds that his favorite gold mining Junior, Great Basin Gold (GBG) has finally got their two gold mines up and running.
However, the cynical markets seem to have categorized Great Basin as just another gold miner, and the share price is languishing with the pack of the three largest gold miners: Barrick (ABX), Goldcorp (GG) and Newmont (NEM). See the comparison chart below and note that the miners have been lagging even the gold price since December 1, 2010 (as represented by proxy (GLD) ETF):
Click to enlarge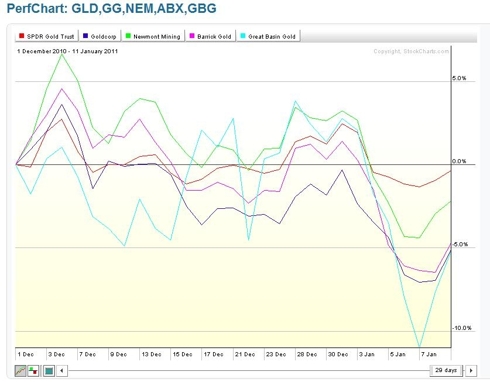 Tim Wood, another Seeking Alpha contributor, has written a very insightful article as to why the large gold miners are not moving and leveraging the price of gold. The author posits that Great Basin Gold is tarred with the wrong brush, as being a regular high cost and share diluted gold miner. Great Basin is in fact a brand new junior gold miner bursting onto the mid-tier production level with the start of output at their two new low-cost mines.
The new Burnstone mine in South Africa conducted its first gold pour on October 31st, Halloween of all dates.
At Hollister in Nevada, Great Basin has discovered super bonanza grades of up to 2,500 ounces per ton, as spelled out in its news release of November 9th, 2010:
Channel samples taken every 10 feet (3 meters) gave values ranging from a low of 1.5 oz/ton (52.0 g/t) Au and 3.2 oz/ton (111.9 g/t) Ag to a high of 2,560.4 oz/ton (88,845.9 g/t) Au and 1,829.8 oz/ton (63,494.1 g/t) Ag over channel widths from 0.3 to 2 feet wide. The current stope is continuously mineralized along its 180-foot (60-meter) length. Diluted over 3.5 feet (the width of the stope development), the average sample values were 66.4 oz/ton (2,404 g/t) Au and 78.5 oz/ton (2,723.9 g/t) Ag. Muck piles have also been sampled; grabs are taken over the pile to collect as representative a sample as possible (between 10-15 lb. are collected every 10 feet). The fully diluted value of the muck samples taken from the stope to date averages 22.3 oz/t (773.8 g/t) Au and 23.4 oz/ton (811.9 g/t) Ag.
In fact Great Basin's November 16 Conference call transcript calls for the company to turn cash flow positive in fourth quarter 2010.
Great Basin Gold is a junior gold miner that is turning cash flow positive. This coming event – together with the discovery of the super high grade gold above its existing Hollister veins – gives some material information to support the movement of the stock forward in 2011. Perhaps my favorite gold junior will have more spectacular moves this year.
Disclosure: The author is long Great Basin Gold.
Important Disclaimer: The information and opinions contained within this document reflect the personal views of the author and should be viewed as food for thought and amusement only. The author may from time to time have a position in any of the securities mentioned. There are no guarantees of the accuracy, reliability or completeness of the information contained herein. Independent due diligence and discussions with one's own investment and business advisor is strongly recommended. These writings are not to be construed as an offer or solicitation with respect to the purchase or sale of any security or as an endorsement of any product or service. We do not request or receive compensation in any form in order to feature companies in this publication. It is prohibited to copy or redistribute this document to any type of third party without the express permission of the author. This document may be quoted, in context, provided proper credit is given.
The original article is published at http://www.c2ads.net/full-text-rss/makefulltextfeed.php?url=http://seekingalpha.com/sector/gold-precious.xml&format=rss&submit=Create+Feed
Looking for a precious metals provider that sells gold coins and bullion (including junk silver)? Click here to visit our favorite provider (FREE SHIPPING!).