By Brad Zigler
There's that pesky number again. You know, the subhead number, the annual monetary inflation rate. It's flat today after more than two months in negative territory.
Readers of this column are familiar with monetary inflation as the rate of purchasing power degradation in the U.S. dollar measured through gold and the world's second reserve currency, the euro. The trend in monetary inflation tends to be predictive of changes in the Producer Price Index and the Consumer Price Index.
Four U.S. Inflation Metrics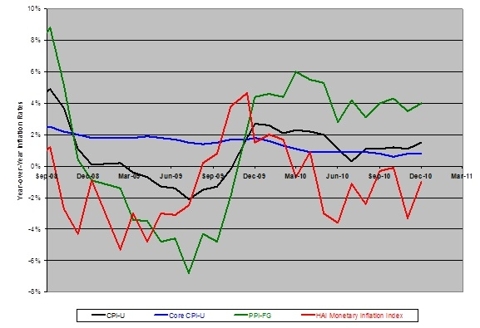 (Click to enlarge)
The rate's just risen to zero, meaning the greenback's disinflationary excursion has ended, at least for now. Is this cause for celebration or dismay?
Well, if you're rooting for a boost in asset prices, this is a good thing. Sort of. When it comes to buying gold—the ultimate financial asset—dollars have gotten "cheaper" than euros. You've no doubt noted the recent decline in bullion prices. Well, the gold sell-off has been more dramatic when measured in euros.
This development dovetails with the report just released by the International Monetary Fund that raises the forecast for U.S. economic growth. Following recent rounds of fiscal stimulus and quantitative easing, domestic economic output ought to grow by 3 percent in 2011, according to the IMF's World Economic Outlook. That rate's 70 basis points (0.70 percent) higher than forecast in October.
If the price of gold is your barometer of the U.S. economy's strength, you'd be hard-pressed to ignore its recent weakness. It seems a lot of fear premium's been sucked out of gold. By yesterday's COMEX close—even before this morning's sell-off—spot metal dipped below its 100-day moving average, something we haven't seen since the pivot-point bottom in July. The relative strength in the SPDR Gold Shares Trust (GLD) has now dipped below its July low as well.
So, is this the end of the line for gold's bull market? Nope. After all, gold's 200-day average is still some $60 to $70 away. Still, the volatility of gold prices and in gold proxies should give bulls pause. Long enough of a pause, at least, to scout out a likely intermediate bottom.
COMEX spot opened today at $1,330. Given gold's topping action, the $1,294 level—with support at $1,254—seems to be a place for bulls to turn and stand. For GLD investors, whose shares started the day just below $130, that translates to $126 and $122.
SPDR Gold Shares (GLD) Price Vs. Money Flow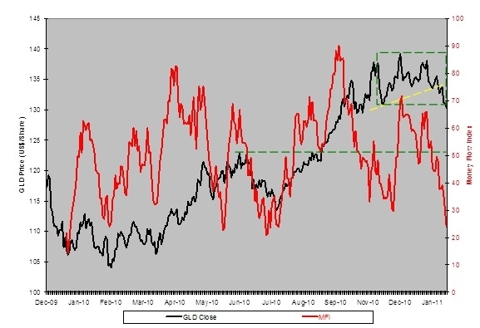 (Click to enlarge)
Holders of gold mining shares have seen the power of leverage, which worked to their favor as gold prices ascended, magnify bullion's recent losses. The Market Vectors Gold Miners ETF (GDX) actually closed below its 200-day moving average yesterday, while smaller-cap preproduction companies comprising the Market Vector Junior Gold Miners ETF (GDXJ) are getting perilously close to crossing under that threshold.
Gold Miners Relative Strength Vs. Bullion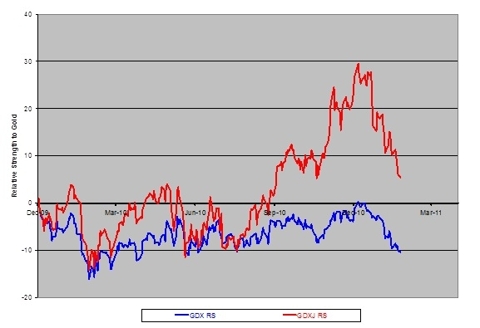 (Click to enlarge)
GDXJ shareholders should watch for support just under $30 (the ETF opened at $33.16 this morning), while GDX investors eye the $51 level (versus today's $52.77 open).
Disclosure: No positions
The original article is published at http://www.c2ads.net/full-text-rss/makefulltextfeed.php?url=http://seekingalpha.com/sector/gold-precious.xml&format=rss&submit=Create+Feed
Looking for a precious metals provider that sells gold coins and bullion (including junk silver)? Click here to visit our favorite provider (FREE SHIPPING!).