Renewed fears over eurozone debt have seen the euro fall against most currencies and precious metals today. The yield on Greek 10-year bonds is approaching an alarming 13% after jumping to a new record high of 12.89% today (see bond charts below). The Portuguese 10-year rose to a new record high of 7.7% ahead of today's auction where they borrowed 1 billion euros in order to avoid a "bailout".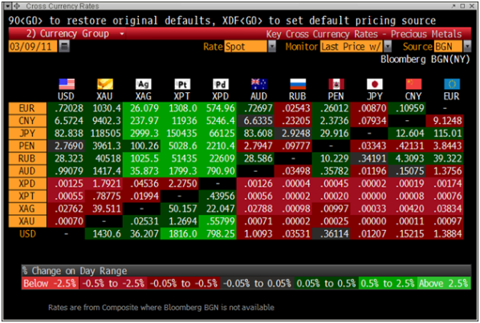 The risk of contagion in the eurozone has clearly not gone away and this is another primary factor supporting gold above the $1,400/oz and the €1,000/oz level. The charts contradict those who simplistically call gold a bubble with gold having seen a period of correction and consolidation since November last year and looking like it is ready to break out and challenge new highs above $1,500/oz and EUR1,100/oz in the coming weeks.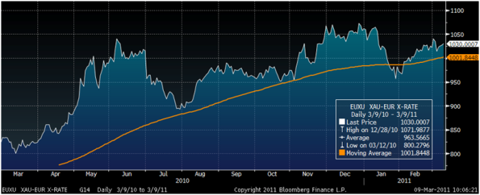 Gold in Japanese yen has continued its gradual rise and has reached multi-year nominal highs at 119,000 yen per ounce. Gold in yen remains a long way from the nominal high of 160,000 yen per ounce seen in February 1980. This is likely a leading indicator that Japan's deflation may be morphing into stagflation and the yen's safe haven status is likely to be as questioned as the dollar's in the months ahead.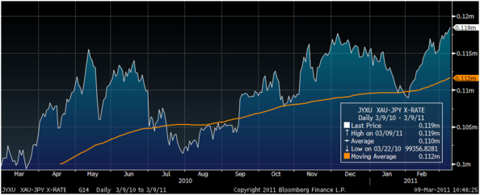 While oil prices came off somewhat they remain near recent highs and uncertainty in Libya and in Saudi Arabia (where there are concerns about the coming 'Day of Rage' on Friday) will likely see oil remain robust with sell offs being shallow and short.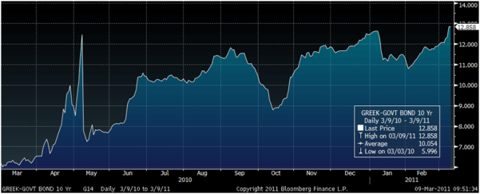 The likelihood that the People's Bank of China is increasing and will continue to increase its gold reserves and the percentage of foreign exchange reserves held in gold, was seen in comments by Li Yining, an influential Chinese economic adviser, yesterday.
He said that China should use some of its close to $3 trillion foreign exchange reserves to buy more gold, and should use the precious metal to hedge against risks of foreign currency devaluations. Reuters reported the story this morning (Reuters Africa) and Bloomberg had a very brief news story yesterday.
"China should increase its gold reserves appropriately, and China must take every chance to buy, especially when gold prices fall," Li was quoted by the official Xinhua news agency as saying.
China does not disclose its gold reserves figures (neither on a monthly, quarterly or annual basis) but is likely quietly accumulating and will announce in the coming years that its reserves have risen from 1,054 tonnes, which is very low when compared with the Federal Reserve's, to over 8,100 tonnes.
Gold's recent and continuing robustness indicates that the 'Beijing put' is supporting the market on all sell offs and will likely continue to do so for the foreseeable future.
The Chinese are too shrewd to 'telegraph' intentions to accumulate much larger gold reserves and will announce the 'news' when they are ready.
Disclosure: I have no positions in any stocks mentioned, and no plans to initiate any positions within the next 72 hours.
The original article is published at http://www.c2ads.net/full-text-rss/makefulltextfeed.php?url=http://seekingalpha.com/sector/gold-precious.xml&format=rss&submit=Create+Feed
Looking for a precious metals provider that sells gold coins and bullion (including junk silver)? Click here to visit our favorite provider (FREE SHIPPING!).