By Richard Bloch
After reviewing how Freeport McMoran has been trading against copper, I thought I'd take a similar look at how a few of the gold mining stocks have been trading against gold.
Back in November, I created a few charts showing how a group of gold miners were trading at various prices for gold.
For example, I posted a chart similar to this one of AngloGold (AU), noting how the green lines might form support and resistance points for the stock, based on data from May 2009 to November 2010: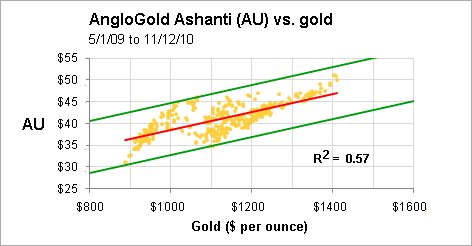 Gold hasn't moved much from where it was in November, so how has the stock done since? This chart provides an update, with the blue dots showing where the stock has traded from November 2010 to February 18, 2011: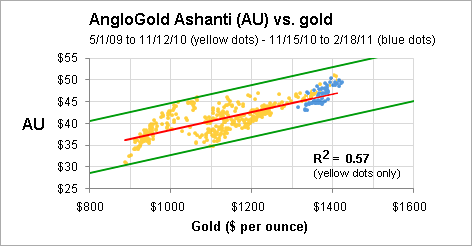 This stock seems to have followed that regression line, but remember this line could be very different had I picked another timeframe.
A couple of gold stocks have been trading below similar regression lines defined back in November. These include Newmont Mining (NEM) and Goldcorp (GG), as you can see here: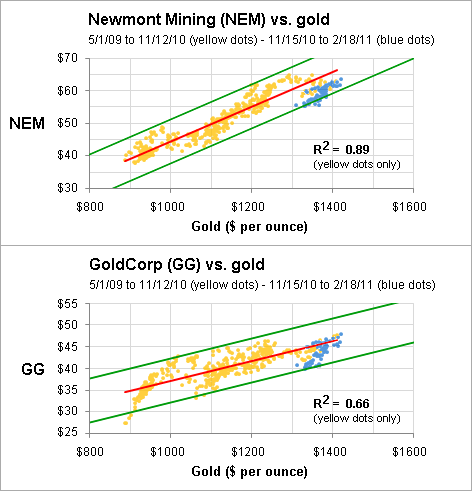 But Barrick Gold (ABX) has been trading at comparatively higher levels, at least based on the price of gold: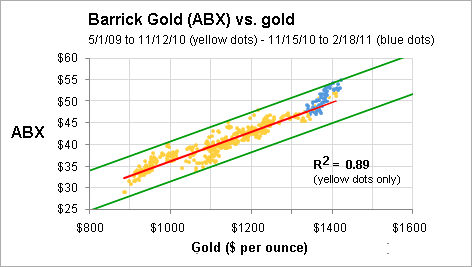 And some of the smaller mining companies, such as NovaGold (NG) and Hecla Mining (HL) have been trading much higher than my original charts might have suggested: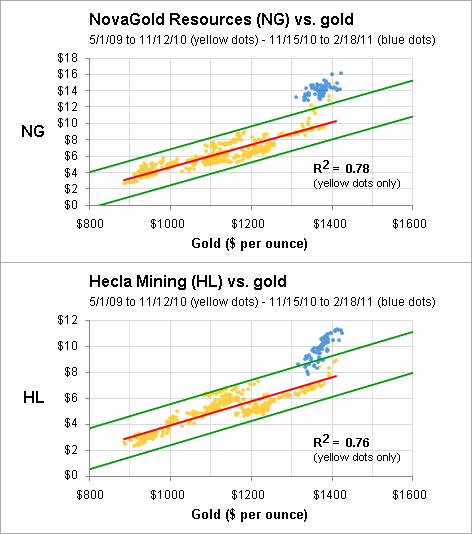 Although Hecla Mining is the largest component of the Market Vectors Junior Gold Miners Index (which is why I looked at it to begin with), the company really sells more silver than gold, which is one explanation for why the stock is up 27% since November, far more than the other 5 stocks.
In fact for 2010, Hecla's silver sales were 275% higher than its gold sales (based on ounces sold and realized price per ounce per the company's report). And silver is up more than 25% since November, while gold is up about 2% (at least as of February 18).
So in reality, it's not fair to compare Hecla to these other stocks – even though back in November it seemed to correlate fairly high to gold. And it also shows that even if you draw a regression line, the stock (and various metals) may have other plans.
The original article is published at http://www.c2ads.net/full-text-rss/makefulltextfeed.php?url=http://seekingalpha.com/sector/gold-precious.xml&format=rss&submit=Create+Feed
Looking for a precious metals provider that sells gold coins and bullion (including junk silver)? Click here to visit our favorite provider (FREE SHIPPING!).