Subtle but continued structural changes yet again remained intact in the latest COT report for both gold and silver, notably, the continued drop in the fully adjusted net open interest. While the gross long position in gold continues to decline, this is in light of a much more substantial drop in the gross short position.
As you can see from the first fully adjusted COT report below, the total net short position, the 4 largest commercial traders net short position and 8 largest commercial traders net short position has been declining on a weekly basis over the last month despite the rather sharp sell off. I can only look at this one way, bullish. Or, in other words, still holding the same view I did in last week's COT analysis for gold.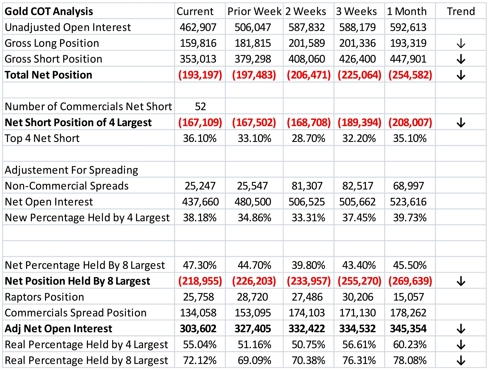 Though we could still see a continued downside correction, it is looking as if it would be both short lived and shallow. Instead, I would bank on an upside breakout at we continue our way into Q1 and the rest of 2011. The most bullish structural change that continued into the most recent week's report is the near 23,800 contract reduction in adjusted net open interest. This is the most bullish I've been on gold in 2011 given the structural changes in the COT report and the civil unrest in Egypt, and other tensions building throughout the world.
Moving onto the most current COT update and analysis for silver, it is eerily similar to gold with regards to the continued structural changes, notably the near 2,600 contract reduction in fully adjusted net open interest, currently sitting at the lowest level (73,816) that I can recall off the top of my head. Other than that, this week's COT report remains largely unchanged (as seen below).
click to enlarge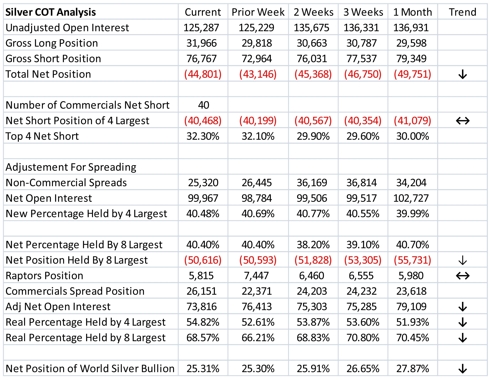 I would point out that concentration levels did rise on a week over week basis, but like recent weeks, needs to be taken with a grain of salt as it is in the face of falling net open interest. Like gold, I continue to remain very bullish on silver and think the next major move will be to the upside, possibly crossing into the mid $30's before the end of the first or second quarter.
If you, like me, believe both metals will work their way high over the coming months, quarters and years, the following are my preferred vehicles of choice to gain leverage from higher PM prices.
Physical Gold and Silver (Or ETFs such as PSLV or PHYS – whose shares are redeemable for the physical bullion or SLV and GLD).
Royalty Companies – A leveraged play in the equity arena with greatly reduced mining risk (Royal Gold (RGLD), Silver Wheaton (SLW), Franco-Nevada (FNNVF.PK) and Sandstorm Resources (SNDXF.PK).
Disclosure: I am long RGLD, FNNVF.PK, SLW, SNDXF.PK, ATNAF.PK, GRS, AXU, BCEKF.PK.
The original article is published at http://www.c2ads.net/full-text-rss/makefulltextfeed.php?url=http://seekingalpha.com/sector/gold-precious.xml&format=rss&submit=Create+Feed
Looking for a precious metals provider that sells gold coins and bullion (including junk silver)? Click here to visit our favorite provider (FREE SHIPPING!).