Gold priced in a basket of commodity currencies is on track to set a new all-time inflation-adjusted monthly average high for February 2011. Commodity currency gold will top the previous all-time high set 31 years ago in January 1980.
MineFund's Commodity Gold Price Index (CGX) prices gold in the most liquid "commodity currencies". The currency basket is weighted by the value of exports of ores and beneficiated ores from the issuing countries. The basket consists of the Canadian dollar, Australian dollar, South African rand, Brazilian real, and Chilean peso.
click to enlarge images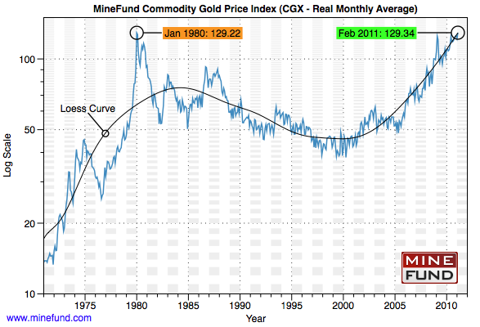 The new all-time high comes despite the index's heavy weighting toward the Canadian and Australian dollars which remain quite far below their 1980 record levels. By contrast, the SA rand has lost so much of its purchasing power that it, combined with the peso and real, have been able to push the index through the resistance level this February.
The three dominant currencies have all risen around 20 fold since 1968 confirming gold as one of the best long-term wealth preservers.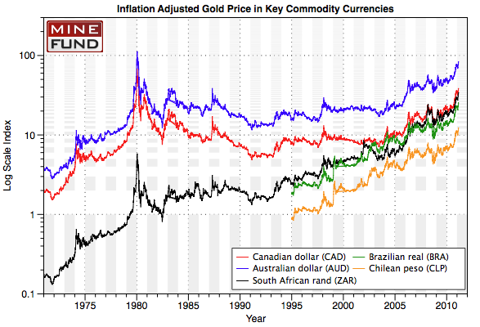 The historic moment for commodity gold prices will give hard asset investors, who tend to be contrarian, some cause for concern.
Exactly two years ago the CGX made a run at its all-time high. In February 2009 the index reached 124, just 5 points short of the high. However it faltered in March and then collapsed in April taking until August of that year to bottom out and commence a new up-trend.
Since then, Europe's fiscal crises and American quantitative easing have provided the momentum to push gold higher. The recent uprisings in North Africa and the Near East will continue to support geopolitical risk trades that can be expected to drive short-term bursts in the gold price, especially if conditions in the oil exporters continue to deteriorate in favor of radicalization rather than democratic outcomes.
US dollar gold prices must exceed $1,861 per ounce before they reach the all-time inflation adjusted high for the American currency. The dollar is represented in MineFund's World Gold Index (WGX) which must still rise dramatically from here before the 1980 high is threatened. The WGX is a gold price basket of the world's most traded currencies.
This differential between the CGX and WGX provides some comfort for a continued benign outlook for the gold price for the next 12-18 months.
Key gold price drivers to continue monitoring for trend changes:
Global real yields remain weak and there is a significant threat of them turning negative. If this replication of the 1970s event occurs, gold will set new records priced relative to any economy.
Relatedly, inflation forecasts have risen substantially in key economies but there is no evident capacity or willingness to counteract higher prices with higher interest rates and tighter credit. This is especially the case in the US where monetary and credit policies usually relax in sympathy with election cycles, especially presidential ones.
Quantitative easing has a strong correlation with equity prices and has been propping them up without the requisite fundamentals. If QE programs are trimmed or halted it could spur a flight to quality in hard assets, especially gold, such as we saw in 2008.
Debt continues to pile up around the world, and it is being monetized where buyers can no longer be found for new paper. This currency debasement will have consequences.
America and Europe have yet to commence balance sheet restructurings to deal with unfunded liabilities that are dominated by excessive social transfers.
Sovereigns like China are leery of taking on more currency reserves and continue to buy and stockpile hard assets as an alternative. This could accelerate in the case of gold as China looks to take its bullion reserves to levels that would support full convertibility of the renminbi.
That said, there remains a high likelihood of a credit crisis redux that could be centered in China where capital continues to be misallocated.
The commodity bull cycle is very mature, but we have yet to enter the mania phase that ends with a speculative orgy ala tech stocks and real estate.
Disclosure: I have no positions in any stocks mentioned, and no plans to initiate any positions within the next 72 hours.
The original article is published at http://www.c2ads.net/full-text-rss/makefulltextfeed.php?url=http://seekingalpha.com/sector/gold-precious.xml&format=rss&submit=Create+Feed
Looking for a precious metals provider that sells gold coins and bullion (including junk silver)? Click here to visit our favorite provider (FREE SHIPPING!).