The headline read "Gold Gains After Bank of China Rate Hike" and the following explanation was given:
"Gold is moving higher after China validated inflation," said George Gero, precious metals strategist at RBC Capital Markets.
Reality is that China raised rates overnight and, as the five-minute chart below illustrates, the impact on gold prices was short lived after China's rate increase, despite the acknowledgement that inflation is alive. But, apparently, China doesn't have much clout.
Then came Jeffrey Lacker, president of the Federal Reserve Bank of Richmond, who said "the quickening U.S. recovery means policy makers need to take 'quite seriously' their commitment to review a $600 billion monetary-stimulus program," according to Bloomberg. Gold prices took off like a bullet. However, I believe that Mr. Gero is not as oblivious as he may sound, and knows full well what just happened, while this little event goes to the danger of taking news at face value.
Click to enlarge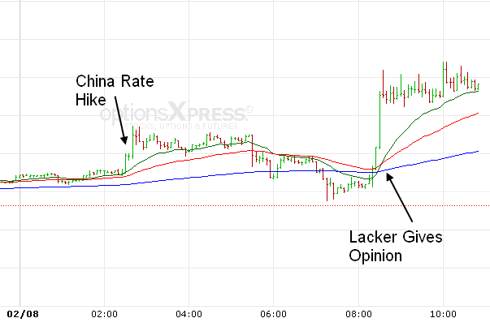 The implication, as interpreted by some, is that Lacker is acknowledging that the "inflation damage" may already be done, thus the rush to cover gold short positions. Meanwhile, the dollar, oil and copper dropped, offering a countering view on Lacker's statements.
Furthermore, and from a purely technical perspective, gold is knocking on the 50 Day Moving Average, and wants to recover the $1,400 level in short order — and we have just another short-term "decision day."
In addition, Federal Reserve Bank of Dallas President Richard Fisher delivered a speech titled "A Report on the Economy" at the Stemmons Corridor Business Association Annual Meeting in Dallas, Texas. According to MarketWatch, "Fisher said he also expects to be at the forefront of the effort to push the Fed to trim back its Treasury holdings and tighten policy at the 'earliest sign' that inflation pressures are moving out of the commodity markets and into the general price stream." Somewhat similar messages but with different interpretations. In my humble opinion, there's nothing out there that screams "great economy going forward," but by the same token rates at 0% never helped any nation.
After Fisher, the dollar rose and gold gave some back — and 10-year rates resumed their climb toward 4%.
Disclosure: I have no positions in any stocks mentioned, and no plans to initiate any positions within the next 72 hours.
The original article is published at http://www.c2ads.net/full-text-rss/makefulltextfeed.php?url=http://seekingalpha.com/sector/gold-precious.xml&format=rss&submit=Create+Feed
Looking for a precious metals provider that sells gold coins and bullion (including junk silver)? Click here to visit our favorite provider (FREE SHIPPING!).