B y Julian Murdoch
Earlier today, the World Gold Council released its quarterly Gold Demand Trends report, the go-to source for industry data on consumption patterns for the yellow metal. And the numbers confirm what many market watchers have suspected for months: 2010 was a year of superlatives.
In 2010, total worldwide gold demand surged to 3812.2 tonnes — a 10-year high and a nine percent rise compared with 2009 levels. That increase may sound slight, until you consider the dollar value difference: With the average London PM fix in 2010 a record $1224.50/oz (2009 averaged "only" $972.30/oz), the total worth of gold market demand soared to $150 billion. That's 38 percent over 2009.
The report breaks out the demand segment-by-segment, offering several reasons for 2010's record demand levels: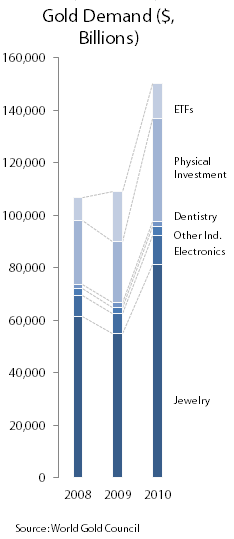 Tonne by tonne, total gold demand for 2010 notched only slightly higher than 2008 levels. But dollar for dollar, the value of that demand was much higher — even when the actual physical quantity remained smaller than 2008 amounts. Case in point: jewelry.
Emerging Demand for Jewelry
A full 2060 tonnes — or 54 percent — of 2010 gold demand went to jewelry, a 17 percent rise over 2009. India emerged as the key jewelry buyer: Consumers in the traditionally gold-hungry country accounted for a staggering 745.7 tonnes, or 36 percent of global demand.
But sheer numbers alone don't make India the main story here — the growth rate of that demand is equally important.
Typically, India's fourth quarter tends to reflect higher jewelry sales due to the Diwali festival, traditionally the period of largest annual gold consumption period in the country. But in Q4 2010, Indian jewelry demand swelled 69 percent over Q4 2009 levels.
This surging demand is especially surprising given gold's high price; Indian gold buyers are generally quite price sensitive. But as the World Gold Council suggests, the rise in Indian jewelry demand in Q4 2010 might actually be because of the metal's high price, not despite it:
"Aside from festival-related purchases, the main motivation behind jewellery demand was the widespread expectation among Indian consumers of yet higher gold prices. Indian consumers appeared almost universally to expect that the local gold price was likely to continue rising, and this belief fueled demand, further highlighting the strength of the investment component of gold jewellery demand in India."
Jewelry demand also rose elsewhere in the emerging markets. China, the world's second-largest consumer of gold after India, bought 428 tonnes in 2010 — a 14 percent rise compared with 2009. Together, these two countries account for 56 percent of world jewelry demand.
Growing Appetite For Bars and Coins
As a point of contrast, let's compare growth in physical investment (bars, coins and so on); unlike jewelry, actual tonnage into bars and coins has risen a fair bit since 2008.
Bullion demand rose 34 percent year-over-year, even though total investment demand (which includes ETFs as well as bars and coins) actually shrunk 2 percent compared with 2009. And while Indian consumers upped their purchases of bars and coins by 60 percent, China in fact exhibited the largest jump in physical demand, with a 70 percent spike over 2009 levels.
Granted, the 179.9 tonnes of bullion consumers in China acquired in 2010 remains much smaller than the sum of their jewelry purchases. But with the launch of several new products in the country allowing buyers to access physical gold for the first time, expect this segment to only grow in the future.
ETF Demand Falters
As much as China loves their bars, U.S. and European investors love their ETFs. Or, at least, they used to.
Compared with 2009's record gold ETF inflows, 2010 fund investment looks positively anemic, with a 45 percent drop in demand. Quarter-to-quarter comparisons look even worse, with Q4 2010's measly 3.6 tonnes of ETF demand ranking 91 percent lower than that in the fourth quarter of 2009.
Two words explain the difference: profit taking. With such high gold prices, many ETF investors decided to liquidate their holdings at the perceived top, and bank their returns while they were still ahead. In some ways, this suggests an evolution in the way investors think about gold ETFs, implying many investors use these funds more as trading vehicles than as long-term stores of value (as they do physical).
Still, even with such huge drops in ETF demand compared with 2009, gold funds still posted their second-strongest year on record in 2010 (due almost entirely to a strong second quarter). Worldwide, ETFs soaked up 338.0 tonnes of gold in 2010, worth $13.3 billion.
Electronics Demand Rebounds
Growth could also be found in technology and industrial demand, which typically includes electronics, dental applications and other assorted industrial demand. In 2010, tech sector demand grew 12 percent to reach 419.6 tonnes.
Here the strongest growth came from electronics, where gold is used in semiconductor devices and high-end cables. Borne on the back of the fledgling economic recovery, electronics demand throughout 2010 had almost rebounded to pre-2008 levels. But a marked slowdown in the fourth quarter prevented a stronger annual showing, as consumer confidence eroded and worldwide economic concerns continued. What's more, the high gold price encouraged industrial consumers to use substitutions wherever possible. Thus, Q4 2010 demand remained only slightly above that seen in 4Q 2009.
What about dentistry? Demand continues to drop, as technological advances and high prices continue to discourage the use of gold for dental applications. Indeed, the days of gold fillings is drawing to a close for everyone but rappers.
Central Bank Buying
Generally speaking, gold's supply story remains mostly unchanged, except for one major development: Central banks, which for more than 20 years sold off gold from their reserves, became net buyers of the metal in 2010.
Thus, instead of boosting the world's gold supply, central banks now act as a drain on it. The WGC details in depth the reasons behind the central banks' decisions, but fundamentally, it's simple: Countries without existing large gold repositories are stockpiling in order to stabilize their economies, while countries with existing stores want to retain them for the same reason. Everyone wants gold.
Mine supply rose a modest 3 percent for the year, primarily due to the ramping up of existing projects, although new production began in the U.S. at Barrick's Cortez Hills in the first quarter. The small increase in mining managed to offset the slight decrease in recycled gold.
The Big Picture
Thus the WGC's 2010 scorecard paints the picture of a gold market in flux. The dramatic drop in ETF demand, combined with the boost in physical purchases and new hoarding by central banks, suggests a sea change in marketplace dynamics is at work.
Central banks and physical investors alike apparently remain price insensitive, buying almost without regard to price, if it suits their economic plan. ETF investors, however, have shown themselves fickle. Funds make it enormously easy for people to not just own, but trade gold, picking entry and exit points with agility that defies the "stick the coins in the mattress" stereotype.
The original article is published at http://www.c2ads.net/full-text-rss/makefulltextfeed.php?url=http://seekingalpha.com/sector/gold-precious.xml&format=rss&submit=Create+Feed
Looking for a precious metals provider that sells gold coins and bullion (including junk silver)? Click here to visit our favorite provider (FREE SHIPPING!).