Ever since gold ETFs hit highs last month, it's been choppy going. With today's tanking prices, you might be asking yourself whether it's time to sell.
In the absence of economic news that sends investors running for the hills, gold is struggling to hang on to its record levels. If you're among the many gold owners, this kind of drop after a long and prosperous run can be dizzyingly confusing. Do you stay in and hope for a turnaround? Or do you sell and look for other areas that are doing more?
Though physical gold ETFs like SPDR Gold Shares (GLD) and ETFS Physical Swiss Gold (SGOL) have struggled since touching highs in early December, both funds remain 4.5% above their 200-day moving average.
[Click to enlarge]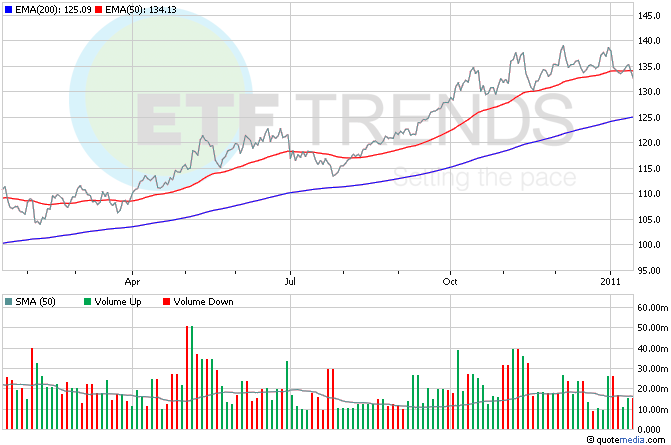 The sell strategy we use for our clients – selling when a position drops 8% off the recent high or dips below the 200-day – comes in handy if things get much more lackluster for gold. As the economy improves, gold could become less alluring for investors and prices could fall further.
Don't get caught in the trap that so many investors find themselves in when they own positions coming off stellar runs. The tendency is to fall in love with those positions, when it would be more beneficial to let go and look for other things trending higher (and right now, there are a lot of other opportunities).
The original article is published at http://www.c2ads.net/full-text-rss/makefulltextfeed.php?url=http://seekingalpha.com/sector/gold-precious.xml&format=rss&submit=Create+Feed
Looking for a precious metals provider that sells gold coins and bullion (including junk silver)? Click here to visit our favorite provider (FREE SHIPPING!).