Somewhat like the massive short covering in silver by the largest commercial traders, gold is witnessing a similar trend, though less pronounced. Again, like silver, gold looks as if it is ready to breakout to the upside. In addition to the commercial traders taking a more bullish stance relative to a month earlier, the same goes for smaller commercial traders, large non-commercial traders and speculators in the aggregate (seen through a larger decrease in the total net short position relative to the decrease in the net short position of the eight largest traders).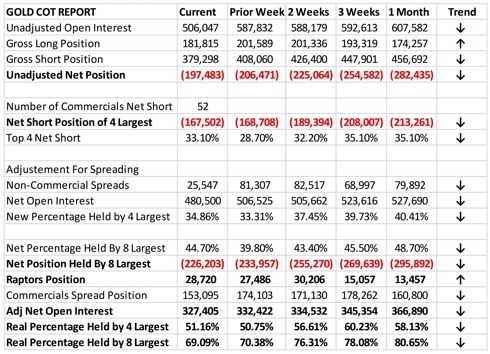 (Click to enlarge)
The four largest commercial traders have reduced their net short position rather substantially from the prior month (45,759 contracts), while the eight largest reduced their position by 69,689 contracts. Concentration levels have also sharply declined from the prior month in the face of declining adjusted net open interest (39,485 contract decrease). The four and eight largest commercial traders saw a decrease of 6.97% and 11.56% (total net short position as a percentage of adjusted net open interest). Another factor that could be considered bullish is the fact that the commercials net short position declined by a much greater percentage than change in the commercial spread position.
While gold is only down $100 from its record high, because of the large structural changes that have taken place in the COT report coupled with economic uncertainty and social unrest (Egypt), I expect gold is either bottoming or nearing a bottom. This of course is a very subjective statement, but does set a foundation for a possible violent explosion to the upside. If you do believe gold is indeed headed higher, the following strategies are various ways to profit from this.
(GLD) – This allows one to capture the upside while removing the systematic risk associated with mining companies. Of course I prefer the physical asset as opposed to the GLD but purchasing options on the GLD will provide one with leverage.
Royal Gold (RGLD), Franco Nevada (FNNVF.PK) and Sandstorm Resources (SNDXF.PK) – A great way to gain leverage to the price of gold without incurring a lot of the inherent risk involved with mining companies, though it does not de-risk these companies completely as their royalties depend on numerous mining operations. Click here to learn more
Atna (ATNAF.PK) and Brigus (BRD) – Click Here to learn more
Gammon (GRS) – Click here to learn more
Disclosure: I am long RGLD, FNNVF.PK, SNDXF.PK, GRS, ATNAF.PK, BRD.
The original article is published at http://www.c2ads.net/full-text-rss/makefulltextfeed.php?url=http://seekingalpha.com/sector/gold-precious.xml&format=rss&submit=Create+Feed
Looking for a precious metals provider that sells gold coins and bullion (including junk silver)? Click here to visit our favorite provider (FREE SHIPPING!).