A strange start to the year and a strange end to a volatile week, so we take a whiz across the air waves in order to get a 'feel' of what's going on, so this will be a mixed bag of data. The first eye catcher is this:
Eric Sprott: Expect $50 Silver, Gold Possibly $2,150 by Spring.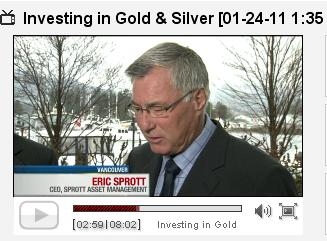 What follows is a brief summary of an interview that Sprott gave to King World News.
Eric Sprott recently launched a silver fund and so entered the market to acquire 15 million ounces of physical silver. To his surprise, it wasn't readily available and in fact it took 10 weeks to get his order filled. Another order placed for 1 million ounces has been given a delivery period of around 2 months. The silver that he received looks to have come directly from the refiners; it is that new. This also tells us that that the supply side is indeed very tight. On the subject of China, Eric drew listeners' attention to this interesting dynamic: In 2005 China exported 100 million ounces of silver. Fast forward to 2010 and China imported 100 million ounces of silver; that's a 200 million ounce turnaround in an 800 million ounce market.
Other influential factors:
One of China's major banks has offered its customers a facility whereby they can save a portion of their savings in gold. Since the offer, the bank had to open one million accounts, which required 10 tonnes of gold to satisfy the demand. Sprott ponders the outcome: What if this idea were to spread throughout China and further afield, say to India? What is the effect if we get an extension to QE2 or even a QE3? What about the possibility of a trillion dollar fund, an idea that is being considered at the current meeting at Davos? What about the impact of the U.K., where economic confidence remains rather weak? The Bank of England supremo, Mervyn King talks of the U.K. being in a depression. Over in the United States, the social security department has announced a $45 billion overspend for 2011.
There appears to be no hiding place as the currencies vie for position in a race to the bottom. Rallies are no longer based on the merits of individual currencies, but rather just how slowly the other fiat currencies are falling apart.
In India, China, Asia and many other countries throughout the world, the concept of receiving money for doing nothing is laughable. For the western world to remain remotely competitive, welfare, social security, bailouts, handouts, freebie benefits are existing on borrowed time. You have been warned. Securing your own financial independence has now reached a critical stage; think, plan and implement new ways to supplement your income.
Now, just what was the reason for gold prices taking a dip recently? We take a quick look at a possible scenario as proffered by Zerohedge from an original piece in the WSJ:
Over the past several weeks there had been rumors that the reason for the precipitous drop in gold was primarily driven by a hedge fund liquidating its futures positions. This has now been confirmed:
"Yeah, that was just me liquidating my spread position," Mr. Daniel Shak, [of SHK Asset Management] 51 years old, said in an interview. "I had a significant, fully margined position. The dollar amount of the gold liquidation was very small, it was just a lot of contracts."
Of course, in the extremely jittery gold market, the kind of persistent marginal gross selling of contracts was all that was needed to spook weak hands into a consistent dump of the precious metal (which as we pointed out, was beyond overdone).
Judging by Monday morning's jump in the Precious Metals complex, SHK's liquidation is now not only over but about to promptly reverse as daytrading momos realize they were duped by one single guy. Look for gold to resume its upward advance as investors realize that the gold dump was nothing more than an ongoing futures position liquidation.
A huge trade by a tiny hedge fund has sent shudders through the gold market.

Thanks to the nature of futures trading, Daniel Shak's $10 million hedge fund held gold contracts valued at more than $850 million, more than 10% of the main U.S. futures market, and the equivalent of South Africa's annual gold production.
It just goes to show how sensitive this market can be when the above action has such an impact. No doubt there are other contributing factors that also gave weight to the movement in gold prices, but this will suffice for now.
Finally, you might want to catch the UKIP leader Nigel Farage – interviewed about the EURO on Russia Today, where he expresses his views regarding the lack of compatibility of some of the member states with the one-size-fits-all currency. Italy could be the next candidate for a bailout, despite the soothing words from the Eurocrats.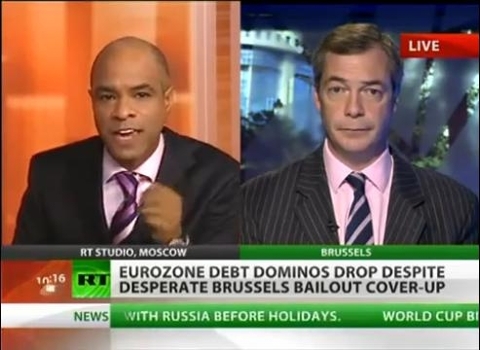 Please click here to watch the clip.
For disclosure purposes, our political support lies with UKIP, even though they have yet to get one candidate elected to the British Parliament.
Disclosure: I am long SLW.
Disclaimer: Gold-prices.biz makes no guarantee or warranty on the accuracy or completeness of the data provided on this site. Nothing contained herein is intended or shall be deemed to be investment advice, implied or otherwise. This website represents our views and nothing more than that. Always consult your registered advisor to assist you with your investments. We accept no liability for any loss arising from the use of the data contained on this website. We may or may not hold a position in these securities at any given time and reserve the right to buy and sell as we think fit.

The original article is published at http://www.c2ads.net/full-text-rss/makefulltextfeed.php?url=http://seekingalpha.com/sector/gold-precious.xml&format=rss&submit=Create+Feed
Looking for a precious metals provider that sells gold coins and bullion (including junk silver)? Click here to visit our favorite provider (FREE SHIPPING!).