Freeport-McMoRan (FCX) is in the sweet spot for mining companies. Copper and gold are both a few percentages off their highs, and neither commodity looks like it will cool off. Buoyed by a rebound in the global economy, rising middle classes in China and India, and QE2, both metals are in high demand. Add in a smaller, yet equally as profitable molybdenum operation, and it seems the company can do no wrong.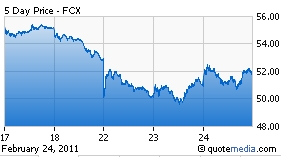 This has led to record cash flows at the company, which has been used to slash the debt taken on from the Phelps Dodge acquisition at an incredible rate. Just this week, Freeport announced it would be redeeming $1.1 billion in debt. Now, with cash flows still strong and debt levels at their lowest levels in years, investors may be the new destination for this cash flow.
Freeport-McMoRan reported Q4 and 2010 numbers on January 20, 2011 (see earnings results here and earnings call transcript here). Freeport received an average selling price for the quarter of $4.18/lb on sales of 941 million pounds. Gold sales for the quarter were 590,000 ounces, sold at an average price of $1,398/oz. Molybdenum sales were 17 million pounds, and it received an average price of $16.60/lb. This drove Freeport to a net income of $1.5 billion for the quarter, or $1.63 per share.*
For the 2010 year, copper sales were 3,896 million lbs sold at an average price of $3.59 per pound, gold sales were 1.863 million ounces sold at an average price of $1,271 per ounce, and molybdenum sales were 67 million pounds sold at an average price of $16.47 per pound. For the year, net income was $4.3 billion, or $4.57 per share.* Freeport guided that in 2011 it will sell 3,850 million lbs of copper, 1.4 million oz of gold, and 70 million lbs of molybdenum.
Lower sales volumes in 2011 came as a surprise to the market, and Freeport shares slid after the report. Shares are down about 10% since the report and sit at 18% below their one year high. This allows for the opportunity to profit from this short term break in the stock's climb, if investors can look at the bigger picture.
Using Freeport's guidance of prices of $4.25/lb for copper, $1,350/oz for gold, and $15/lb of molybdenum, the company predicts generating operating cash flows of $8 billion in 2011, compared to $6.3 billion in 2010 . For every $0.05/lb change in copper prices, cash flow will move $150 million. A $2/lb move in molybdenum will move cash flow $80 million, and a $50/oz move in gold will move cash flow by $55 million. With CapEx estimated at $2.5 billion, Freeport will generate significant excess cash this year.
Management has stated, both in the earnings release and in more depth in the Q/A part of the conference call, that Freeport does not feel the need to carry excess cash, and that the board will be examining dividends and share buybacks over the course of the year. Freeport last year raised its dividend 67% to $1 per share,* and declared a $0.50 per share* special dividend. Given the fact the company has less debt to pay off, will generate more cash in 2011 versus 2010, and has stated it does not feel the need to carry cash balances, the uses for the money are limited.
While not ruling out an acquisition, management stated they are approached by bankers about possible deals often and the board has not seen fit to do a deal yet. That leaves dividends and share buybacks, the most shareholder friendly way a company can return money to investors. Based on the most recent quarter and Freeport's guidance, FCX should have no problem earning $6 a share this year. That is nearly $1.50 more than last year, and with no other alternatives, a larger special dividend, or series of dividends, is very reasonable.
The biggest threat to FCX would be a substantial decline in metals prices. While no one is forecasting this, the possibility does exist. An oil price shock off of Libya, for example, is the type of event that would crimp global GDP and therefore copper prices. Freeport does not, by company policy, hedge prices at all for either input costs like diesel fuel or for metals prices, so the company's performance is very tied to the spot market prices for metals.
Investors have punished shares of FCX in the last month for lowering production guidance. Smart investors should look to rising cash flows, shrinking debt levels, and strong metals demand and rethink this punishment. The boatloads of money Freeport-McMoRan generates will find its way into investors' pockets, through a combination of increasing dividends, share buybacks, and a higher stock price.
*All share price information has been adjusted to reflect the 2 for 1 stock split that took place on February 1, 2011
Disclosure: I have no positions in any stocks mentioned, and no plans to initiate any positions within the next 72 hours.
The original article is published at http://www.c2ads.net/full-text-rss/makefulltextfeed.php?url=http://seekingalpha.com/sector/gold-precious.xml&format=rss&submit=Create+Feed
Looking for a precious metals provider that sells gold coins and bullion (including junk silver)? Click here to visit our favorite provider (FREE SHIPPING!).