By Richard Bloch
I forgot who was discussing it, but someone on CNBC's "Fast Money" was suggesting that copper and gold miner Freeport McMoran (FCX) doesn't seem to be trading well.
After all, copper itself has surged to new highs, but as of February 9, Freeport is off more than 10% from the 2011 high of about $61 (adjusted for the 2:1 split on February 2). It gapped down after its January earnings report as you can see on this chart:
In an article on mining stocks back in November, I posted a chart that looked like this – showing how Freeport had been trading over the previous 18 months based on the price of copper: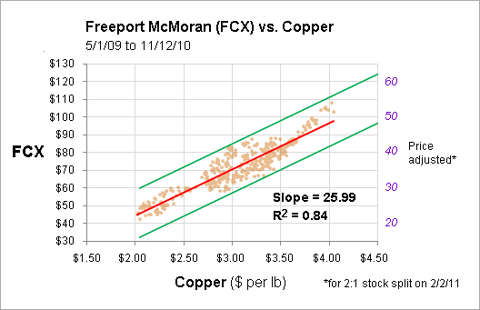 This is essentially a linear regression with the R-squared value of 0.84 representing a relatively high correlation. Note that the chart shows the old non split-adjusted prices, but I added a scale to the right showing the approximate split-adjusted value.
For example, during the period shown on the chart, Freeport tended to trade from $58 to $84 or so ($29 to $42 split adjusted) when copper itself was about $3.00 per pound. In the original article, I suggested that the green lines might be viewed as potential support and resistance points.
So how has Freeport traded since then? This chart is similar to the one above, but I added the blue dots to show where the stock has traded since November relative to copper:
Back in November, one might have expected that based on the previous 18 months, FCX might range from about $96 to $124 ($48 to $62 split adjusted) if the price of copper reached $4.50 per pound. But Freeport has been trading near the top of that range. It wouldn't surprise me if the stock fell below the original red regression line, even if copper prices rise (and especially if copper falls).
A similar view of Southern Copper
Back in November, I also posted a similar chart for Sothern Copper (SCCO), another copper miner. Here's both the original chart and an updated version.
This looks remarkably similar to the Freeport chart, with SCCO trading mostly above the red regression line since November.
The problem with linear regression is that the best fit for a set of data may not be linear at all. Plus the relationships between the data keeps changing, so these charts would look very different had I selected other time periods.
For example, just eyeballing these charts, it seems as if a new regression line based on the the complete time period (May 2009 until present) would probably show steeper slopes for both these stocks.
And if copper stumbles, those steeper slopes could get pretty slippery.
Disclaimer: Content, including research, tools and securities symbols, is for educational and informational purposes and should not be intended as a recommendation or solicitation to engage in any particular securities transaction or investment strategy. You alone are responsible for evaluating which securities and strategies better suit your financial situation and goals, risk profile, etc. The projections regarding the probability of investment outcomes are hypothetical and not guaranteed for accuracy or completeness. They do not reflect actual investment outcomes and are not guarantees of future results, and do not take into consideration commissions, margin interest and other costs that will impact investment outcomes. Content may be out of date or time-sensitive, and is subject to change or removal without notice. Supporting documentation for any claims made in this post will be supplied upon your email request to editor@zecco.com.
The original article is published at http://www.c2ads.net/full-text-rss/makefulltextfeed.php?url=http://seekingalpha.com/sector/gold-precious.xml&format=rss&submit=Create+Feed
Looking for a precious metals provider that sells gold coins and bullion (including junk silver)? Click here to visit our favorite provider (FREE SHIPPING!).