Despite the correction in many stocks, precious metals continue to hold their own. The catastrophe in Japan has helped to accelerate stock selling, yet silver and gold are holding up well since precious metals are part of the flight to safety trade.
Events like the earthquake in Japan can create opportunities for investors that are ready to jump on the right investment, and I'd suggest having silver stocks at the top of your list. Many are down 10% or more since the catastrophe.
The spot price of silver in London rose nearly 80% in 2010, giving many mining companies the motivation to bring as much of the precious metal to market as possible in 2011. This year, silver is up more than 15%.
Click to enlarge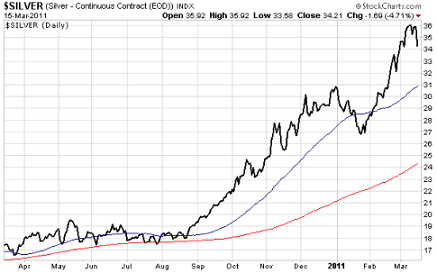 One Canadian miner just released exciting news about one of its projects that could go into production soon. If it does, and silver prices remain strong, investors that purchase shares ahead of production will be well positioned as the company brings a new revenue stream online.
The company is MAG Silver (MVG). The stock has become volatile, as have most stocks in the last couple of weeks as the market digests earnings and as Japan's economy struggles with the aftermath of the recent earthquake.
Click to enlarge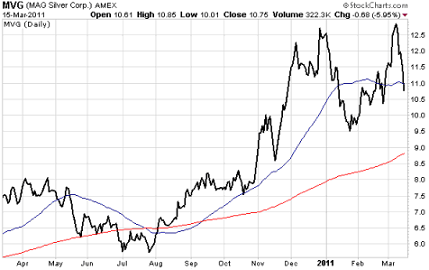 Although MAG's company headquarters is in Vancouver, British Columbia, the company's mines are in Mexico. MAG wholly owns over 100 square miles of prospective ground throughout that country. The company has nine primary mining projects in progress, but it just released a report on the Juanicipio mine that could be a game-changer.
At the Juanicipio mine, in the prized Fresnillo Silver Trend region northwest of Mexico City, the company stated in a "prefeasibility study" that drilling has encountered a high-grade vein. Indications are that this Juanicipio Vein has 46.5 ounces of silver per ton of ore, about four times the density of the company's nearby Valdecañas Vein.
Juanicipio is a joint venture with Fresnillo PLC, which is the project manager and holds 56% of the project. MAG Silver is the junior partner and holds the remaining 44%.
The property is a rich, yet undeveloped asset. In September MAG released a study that indicated Juanicipio contains 110.8 million ounces of silver – about 27 million ounces more than a previous study. In a February 2011 presentation, MAG Silver executives also pointed out that there's "strong upside for the discovery of more veins."
Along with silver, Juanicipio also contains gold and zinc which would be mined and likely accounted as "silver credits," an industry standard which helps consolidate reporting.
The upside from this new operation is significant, and investors that are looking for exposure to a developing silver company should put MAG Silver on their watch list.
For additional silver opportunities in Mexico, you'll want to take a look at companies that span the range from explorers to producers. MAG Silver, as a developer/producer, fits in the middle of this range.

Disclosure: None.
The original article is published at http://seekingalpha.com
Looking for a precious metals provider that sells gold coins and bullion (including junk silver)? Click here to visit our favorite provider (FREE SHIPPING!).